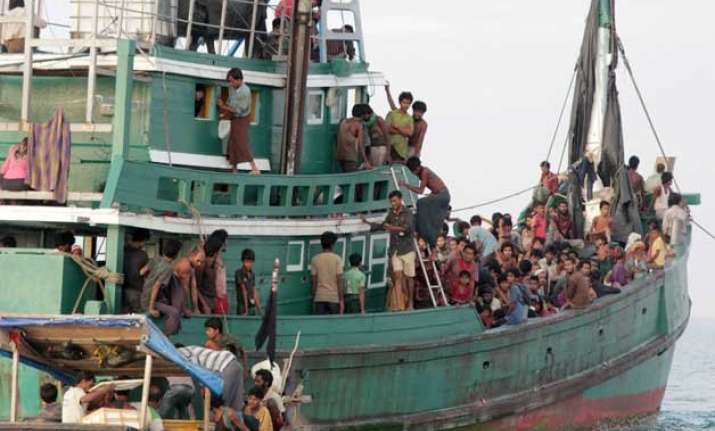 Kualalampur, Malaysia: Malaysian authorities said Sunday that they have discovered a series of graves in more than a dozen abandoned camps used by human traffickers on the border with Thailand, where Rohingya Muslims fleeing Myanmar have been held.
The finding follows a similar discovery earlier this month by police in Thailand, who unearthed at least 33 bodies from shallow graves on the Thai side of the border.
The grim discoveries are shedding new light on the hidden network of jungle camps run by traffickers who have for years held countless desperate migrants captive while extorting ransoms from their families.
The migrants and refugees who have fallen victim to the traffickers are from Myanmar and Bangladesh, part of a wave of people who have fled their homeland in hopes of reaching countries like Malaysia where they hope to find work.
More than 3,600 people — about half of them from Bangladesh and the others minority Rohingya Muslims from Myanmar — have landed ashore in Indonesia, Malaysia and Thailand since May 10, and thousands more are believed to be trapped at sea, some in boats abandoned by traffickers amid a regional crackdown.
Malaysian Home Minister Zahid Hamidi told reporters Sunday that police were trying to identify and verify "the mass graves that were found."
"These graves are believed to be a part of human trafficking activities involving migrants," he said, adding that police have found 17 abandoned camps that they believe were used by traffickers.
There was no immediate word on how many bodies had been recovered, or how old the alleged trafficking camps or graves were.
Authorities say they have known for years that the area on the Thai-Malaysia border was used to smuggle Rohingya Muslims, a persecuted minority in Myanmar, as well as Bangladeshis and other migrants, to third countries including Malaysia, which is predominantly Muslim.
The graves discovered in Thailand earlier this month were mostly in southern Songkla province.
Last June, the U.S. downgraded Thailand and Malaysia to its lowest category — Tier 3 — in an annual assessment of how governments handle human trafficking.