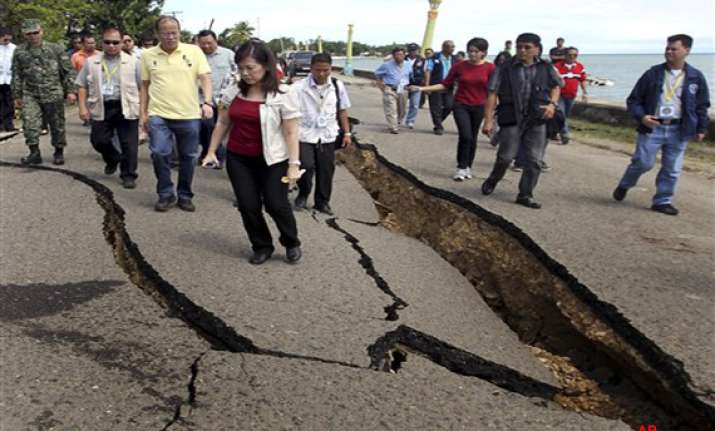 Manila, Feb 9 : President Ninoy Aquino on Wednesday  called for immediate reconstruction of vital infrastructure and assured supply of basic necessities to the quake-ravaged central Philippines, two days after a 6.9 temblor shook the country killing at least 26 people and leaving 50 others missing.
Scientists are investigating the fault line in Central Philippines to determine if the area is safe for residential communities as the search for missing people continued today.
Aquino touring the affected areas called for early restoration of food and water to the affected population.  According to the latest figure released by the provincial government of Negros Oriental, 26 persons died in Monday's quake while 50 were still missing.

The National Disaster Risk Reduction and Management Council (NDRRMC) admitted to difficulty in reaching areas in the aftermath of the 6.9 magnitude-quake that hit the area on Monday.

Aquino, who celebrated his 52nd Birthday today toured the disaster areas in Guilhulngan City and La Libertad in the Negros Oriental in Central Philippines. 
"The peace and order must be maintained so that basic goods are transported to the needy with prices staying at normal levels," an official statement from Dumaguete City quoted the President as saying.

The Philippine Institute of Volcanology and Seismology (Phivolcs) wants to check if the Negros Oriental area in Central Philippines is still safe for residential communities.

The earthquake devastated parts of the province and nearby areas.