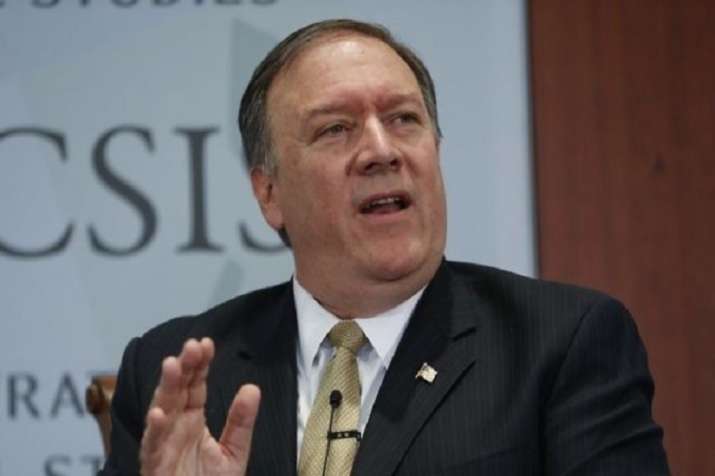 Defending the Trump administration's decision to cut USD 300 million aid to Pakistan, US Secretary of State Mike Pompeo has said Islamabad did not make satisfactory progress in combatting terrorism. Talking to reporters, the Secretary of State said, "the rationale for them (Pakistan) not getting the money is very clear. It's that we haven't seen the progress that we need to see from them".
Pompeo will arrive in Islamabad along with General Joseph Dunford, Chairman of the Joint Chiefs of Staff. His visit comes days after USD 300 million military aid to Pakistan was cancelled by the Trump administration, in the latest controversy to hit Islamabad's troubled relationship with Washington.
The US had stated that Pakistan was not doing enough against terrorist groups inside its borders.
Pompeo, during his meet with Pakistan Prime Minister Imran Khan, army chief General Qamar Javed Bajwa and Foreign Minister Shah Mehmood Qureshi, would convey the same message of acting tough on terrorist organisations in Pakistan.
Amid reports that the Pentagon has sought a Congressional approval to reprogramme USD 300 million meant for financial assistance to Pakistan due to lack of progress in fight against terrorism, Pompeo said, "the very reason for this trip is to try and articulate what it is our expectation is, the things that they can do, the things that they expect us to do, and see if we can't find a path forward together."
However, Pompeo said that this was not news for Pakistan.
"Look, this wasn't news to the Pakistanis. It made a lot of headlines over the last few days because of the formality, but they were told this past summer that they weren't likely to get that money," he said.
Pompeo, ahead of the meet with Khan, hoped that they can turn the page and begin to make progress.
"There are real expectations. We need Pakistan to seriously engage to help us get to the reconciliation we need in Afghanistan. They have important interests, security interests in Afghanistan to make sure they get the issues at their border right, and we need their help," Pompeo said.
The Secretary of State, during his first trip to Pakistan post the election of Imran Khan as the prime minister, had said he wanted to 'reset the relationship' between the two countries.