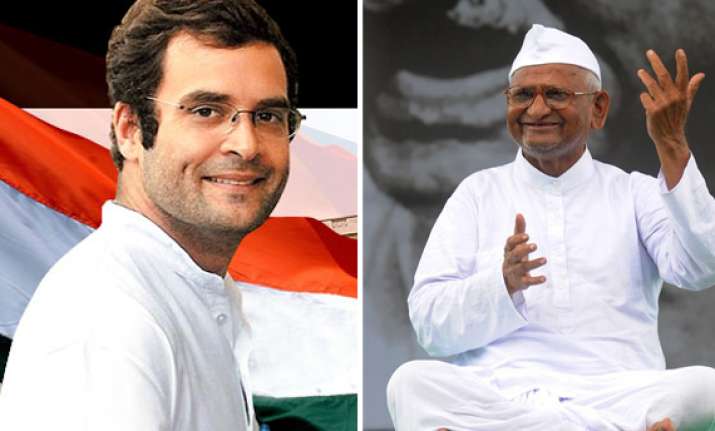 New Delhi, Oct 17: The much-talked about meeting between Rahul Gandhi and the Sarpanch of Anna Hazare's village Ralegaon Siddhi tommorrow will not take place. 

A party MP, who was supposed to arrange the meeting, today dismissed as "entirely false and baseless" reports about the meeting scheduled tomorrow, clarifying that though a request was made, a meeting has not been confirmed. 

Seeeking to set right the 'confusion' and 'rumours', party MP from Idukki in Kerala P T Thomas issued a press release saying though the Sarpanch and the Deputy Sarpanch of the village had made a request to him in this regard, no meeting has been confirmed with Gandhi.  Thomas had visited Ralegaon Siddhi in September this year.

"When I visited Ralegaon Siddhi in September 2011, the Sarpanch and the Deputy Sarpanch had expressed their desire to meet Rahul Gandhi. Accordingly, they sent a letter to me on September 10 requesting a meeting with Gandhi. No meeting has been confirmed. Media reports to the contrary are entirely false and baseless," he said.

Hazare's aide Datta Awari had told PTI over phone from Ralegan Siddhi yesterday that "our village sarpanch Jaisingh Mapari will meet Rahul Gandhi in Delhi on Tuesday and request him to visit the village."

The villagers would like to show Rahul the progress done by Ralegan Siddhi in areas like water-shed development, he had said.

Asked if the issue of Hazare's 'maun vrat' (vow of silence) would figure in Mapari's discussions with Rahul Gandhi, Awari said the issue would also be discussed.  Another Hazare aide advocate Shyam Asawa told PTI that the invitation to meet Rahul was extended to Mapari by Congress MP P T Thomas.