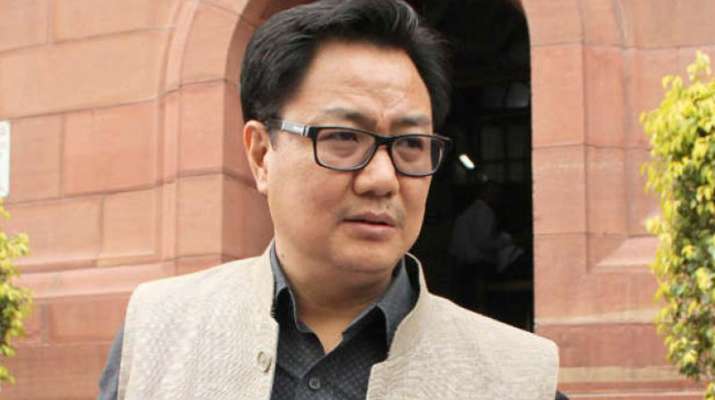 Minister of State (Home Ministry) Kiren Rijiju who was admitted to the All India Institutes of Medical Sciences (AIIMS) on Thursday, underwent a minor operation for Sinusitis. He is likely to be discharged on Friday evening.
Meanwhile, former Prime Minister Atal Bihari Vajpayee is still admitted in the top hospital of the country. 
On Monday, the hospital had said 93-year-old Vajpayee, who had not been keeping well for long, was admitted for routine check-ups and investigations and that his condition was stable. A team of top doctors is keeping a tab on Vajpayee's health in the hospital. A battery of leaders, including PM Narendra Modi, Congress president Rahul Gandhi have met the ailing former PM at AIIMS since he was admitted to the hospital on Monday.
Talking to media persons on Wednesday, AIIMS Director Dr Randeep Guleria said that his urinary infection is under control and all his vital parameters are normal.
"Atal Bihari Vajpayee has shown significant improvement in last 48 hrs. His kidney function is back to normal, heart rate,respiratory rate and BP are also normal, these parameters are being maintained without support," Dr Guleria said.
"Hopefully he'll make full recovery in next few days, overall his health is good," he added.
He also said that if his condition continues to improve, he can be discharged in next few days.
Modi met the doctors and enquired about Vajpayee. He also met his family members, according to an official statement. The prime minister spent nearly 50 minutes at the hospital, a statement added. 
Vajpayee was thrice elected the prime minister between 1996 and 1999 and is the only non-Congress prime minister to complete the full term of five years, from 1999 to 2004. 
A senior leader of the Bharatiya Janata Party (BJP), Vajpayee was the first non-Congress prime minister who served a full five-year term in office. Vajpayee is currently the oldest living former prime minister. He was a Parliamentarian for over four decades.
As his health deteriorated, he had slowly withdrawn himself from public life and was confined to his residence for years.
(With inputs from agencies)