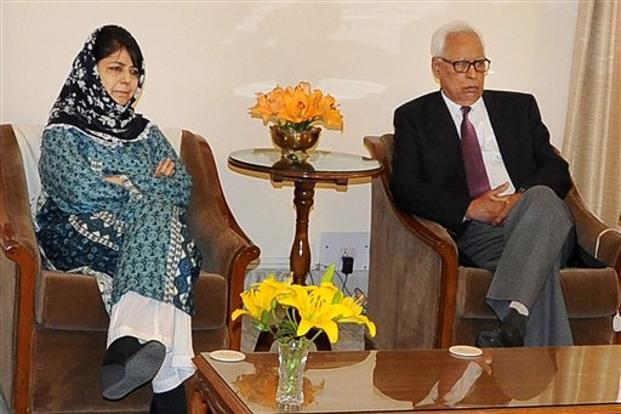 An afternoon call from Governor NN Vohra led to an abrupt end of the tenure of Jammu and Kashmir Chief minister Mehbooba Mufti, PTI reported.
The Governor called Chief Secretary B B Vyas, minutes before BJP general secretary Ram Madhav announced the BJP's decision to pull out of the alliance government, and asked him to immediately arrange a call with the chief minister.
Mehbooba, at that time, was in her office in the civil secretariat.
Vyas duly arranged the call. The governor, according to officials in the know of developments, informed Mehbooba about the BJP's decision, which was conveyed to him in a letter sent by BJP state president Ravinder Raina along with the resignation letters of the BJP ministers. 
59-year-old Mehbooba listened to the news in silence, and after a pause said there was no need for talks with the BJP and she would be submitting her resignation, the officials said.
 
Soon after, Madhav made his announcement in Delhi, ending the uneasy, often fractious alliance between the BJP and the PDP and setting the stage for another round of governor's rule.