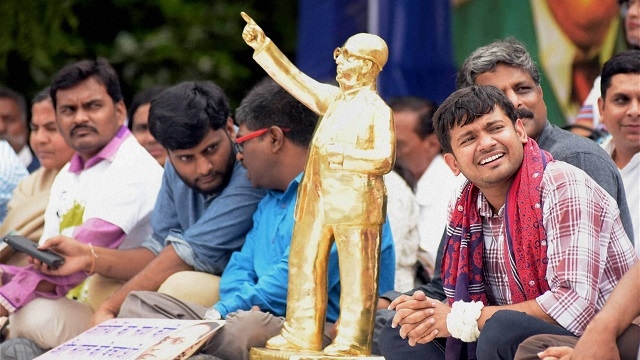 On a day Prime Minister Narendra Modi used his independence day speech to send a strong warning against elements trying to create social disharmony and underscored the need to upheld the rights of the weaker sections of society, several thousand Dalits with a sizeable presence from the Muslim community members congregated at Gujarat's Una.
Notably, Una became a focal point of Dalit agitation after four young Dalits were tied to a car, stripped and flogged after being wrongly accused of killing a cow last month.
Slogans like "Dalits-Muslims bhai bhai" were heard at the gathering where Prime Minister Narendra Modi also came under fire.
Jignesh Mevani, convener of the Dalit Atyachar Ladat Samiti (Una Dalit Committee to Fight Atrocity) said that the BJP and Sangh Parivar should stop testing the patience of Dalits and agree to their 10-point demand, including grant of 5 acres of land to each Dalit family in the state.
Radhika Vemula, mother of dalit scholar Rohith Vemula who had committed suicide in Hyderabad and Balu Sarvaiya, father of one of the victims of Una dalit flogging incident jointly unfurled  the tricolor before a crowd of not less than 20,000 Dalits.
Also present today was Kanhaiya Kumar, the student from Jawaharlal Nehru University who was arrested on charges of sedition in February.
They pledged they will not remove dead cows or skin them and will launch a rail roko stir if five acres of land for each family is not granted by Gujarat government within a month.
The protest march, or the Dalit padayatra that had begun from Ahmedabad on 5 August, concluded on Monday after snaking through scores of villages and towns en route receiving major response. "Mahatma Gandhi's Dandi yatra began with 76 people and more people joined in, we started with 70. The same spirit has arisen now with hundreds of people coming out in support," Mevani told Firstpost.
Thousands of Dalits and social activists holding posters and garlanded photos of Baba Saheb Ambedkar joined the yatra to mark a new era in Dalit movement amidst the rise of gau rakshaks (cow protectors) who have gained notoriety for targetting Muslims and Dalits.
As the 10-day long 350-km foot march from Ahmedabad culminated at the epicentre of Dalit protests here, some dalits returning after the conclusion of the rally that coincided with the 70th Independence Day were attacked by suspected upper caste people in Samter village in Una in Gir Somnath district.
Eight dalits were injured and a complaint was lodged at Una (rural) police station, police said, adding top officials were camping in the area.
As many as seven members of Dalit community from Mota Samadhiyala village in Una taluk in Gir Somnath district were on July 11 brutally assaulted by some self-styled cow vigilantes for skinning a dead cow, sparking outrage. At the rally, Dalit leaders sought freedom from atrocities and discrimination, amid chants of "Jai Bhim". The march under the aegis of Una Dalit Atachiyar Ladat Samiti (UDALS) started on August 6 from Ahmedabad, 350 km from here.