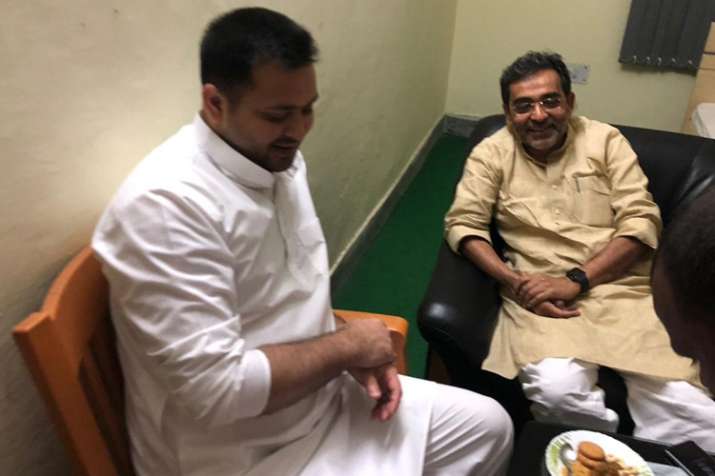 The Bharatiya Janata Party (BJP) and Nitish Kumar's Janata Dal-United on Friday announced seat sharing formula for 2019 Lok Sabha elections. Speaking to reporters in New Delhi after a meeting with Bihar CM Nitish Kumar, BJP president Amit Shah said both the parties will contest on equal number of seats.
Shah, however, didn't reveal the actual number of seats the two alliance partners would contest on. 
"It has been decided that BJP and JDU will fight on equal number of seats for Lok Sabha Elections 2019 in Bihar. Other allies will also get a respectable seat share. Numbers will be announced in a few days," Amit Shah said.
"Upendra Kushwaha and Ram Vilas Paswan will remain with us. When a new ally has joined us, there will be a reduction in seat share for everyone," Amit Shah added.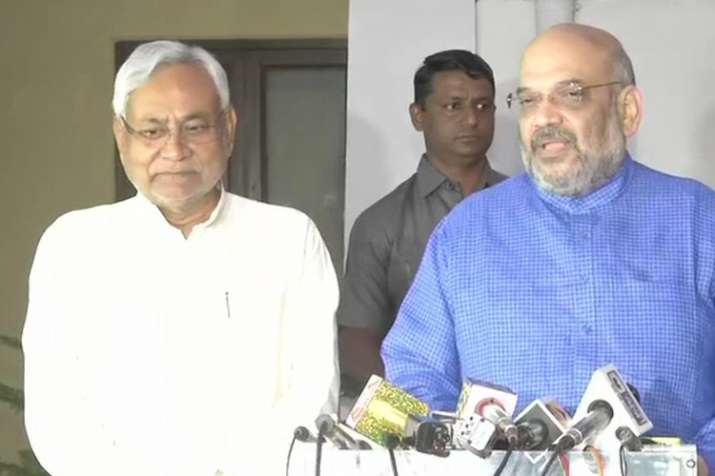 Tejashwi-Kushwaha meeting raises eyebrows
Soon after the seat-sharing announcement by Amit Shah in New Delhi, focus shifted to Bihar where Upendra Kushwaha met Rashtriya Janata Dal (RJD) leader Tejashwi Yadav in the evening. The meeting between the two leaders raised several eyebrows, however, Kushwaha described it as just a co-incidence.
"There is no question of going with the RJD. I am busy in working to make Narendra Modi PM again. It was just a co-incidence that met him (Tejashwi)," Kushwaha told reporters at Arwal where he met the former Bihar minister at a guest house.
#FLASH RJD Leader Tejaswi Yadav meets Union Minister and RLSP Chief Upendra Kushwaha at Arwal Circuit guest house.#Bihar pic.twitter.com/wJzTTDGFtX

— ANI (@ANI) October 26, 2018
Kushwaha's RLSP and Paswan's LJP have on numerous occasions gave ample hints to the BJP that they would agree only to a 'respectable' seat sharing formula.
A former close aide of Kumar, Kushwaha had floated the RLSP after quitting the JD(U) in 2013, comprising mostly disgruntled party leaders. 
WATCH: Tejashwi Yadav meets Upendra Kushwaha
Despite its fine performance in 2014, the RLSP fared dismally in the assembly polls a year later as it returned with a tally of two in a 243-strong Vidhan Sabha. 
The JDU had fought 2014 Lok Sabha elections separately and despite being the chief minister's party, it won only two seats.
WATCH: BJP-JDU finalise seat sharing formula for 2019 Lok Sabha polls in Bihar