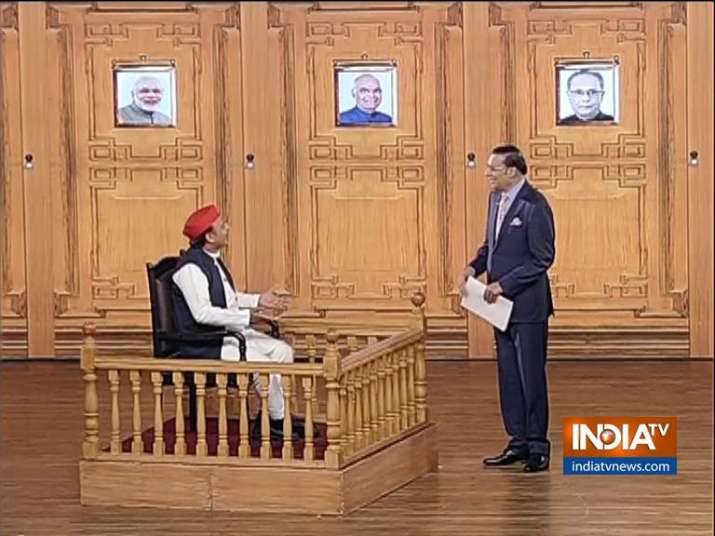 Former UP chief minister and Samajwadi Party chief Akhilesh Yadav has said that his 'mahagathbandhan' with BSP and RLD is firm, and "India will choose a new Prime Minister after May 23 (counting day)". 
 
Replying to questions from Rajat Sharma in the show 'Aap Ki Adalat', Akhilesh Yadav said: "This mahagathbandhan will not break. BJP is daydreaming." 
 
In reply to another question about Congress fielding 'weak' candidates in UP, Yadav said: "All Congress candidates except two in UP are weak. Congress party knows it". 
 
Asked about UP chief minister Yogi Adityanath's remark that BSP supremo Mayawati sits on a bigger chair and offers Akhilesh Yadav a smaller chair, the SP chief replied: " He sees 'kursi' because his party is going to lose its 'kursi' in Delhi, and also lose its 'kursi' in UP."
 
The former UP CM said, Opposition leaders have all the right to demand facts about the surgical strike and air strike against Pakistan. "Can't we in the Opposition even ask questions? And if we ask questions, we are branded as anti-national? Who will reply about the intelligence failure that led to the killing of 40 CRPF jawans in Pulwama?" 
 
Yadav asked why the "self-proclaimed patriots (rashtrabhakts) were afraid of a former BSF jawan in Varanasi, whose nomination was rejected? The government is yet to reveal why that jawan was dismissed from service in the first place."
Watch Video: