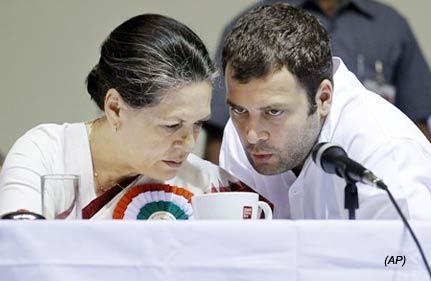 New Delhi , Nov 2: Asking party members to work for the weaker sections who can take the country forward, Rahul Gandhi today said it was only Congress which could unite the "two Hindustans"-- one for the rich and the other for the poor.
The 40-year-old Congress general secretary, who sat in the back row on the dais at the AICC session here, rose to speak after vociferous demands from party workers.
"This (his speech) was not part of the plan.
"You cornered me at the last minute," he said as Congress members cheered and clapped in Talkatora indoor stadium.
Referring to his intensive travels across the country and interactions with a cross-section of people, he said, "I have understood two things clearly.
"First is that it is only the poor people who can take the country forward.  And if we have to take the poor people forward, the Prime Minister's strategy for economic growth is a necessity.
"There are two Hindustans - one is growing very fast and the other is for the poor (which is in crisis).... We have to connect and unite the two.
Congress, he said, was the only party which could do this as all other parties were "either regional, or based on caste or religion".
"It is only the Congress - a national party  -- which can do it as it has its presence all over the country,"  Rahul said, adding that the party was gaining strength every year.
He said people used to say that Congress was finished in Uttar Pradesh and Tamil Nadu. PTI