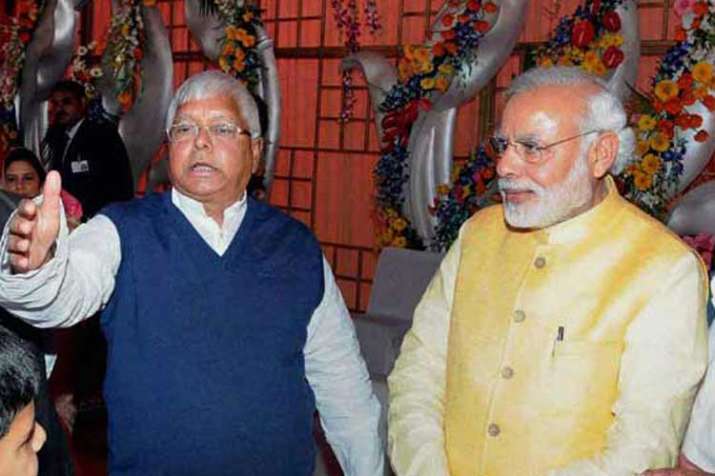 In a veiled attack on RJD chief Lalu Prasad Yadav who has alleged "political vendetta" after a probe into charges of corruption were initiated against him, Prime Minister Narendra Modi on Sunday asked the political class to join hands against those seeking an escape route by dubbing action against graft as a political conspiracy. He urged all political leaders to stay away from corrupt leaders and refrain from protecting them.
"When the law takes its course against those who loot the nation, then we have to unite against those who seek an escape route by dubbing such an action as a political conspiracy," the Prime Minister tweeted. 
In a series of posts on his twitter account, Modi said, "Besides ensuring integrity in public life, action against corrupt politicians was a must. Every party should identify such leaders amongst themselves and disassociate itself from them."
Won't tolerate violence in name of cow vigilantism: PM Modi at all-party meet; asks states to take strict action
"Due to the corrupt practices going on, there is a question mark on the integrity of the people engaged in public service. We need to assure the public that every politician is not stained," he told a meeting of political parties ahead of Parliament session beginning on Monday. 
Modi's remarks came against the backdrop of Trinamool Congress and RJD dubbing the action against their leaders by law enforcement agencies over alleged corruption as political conspiracy. 
Opposition parties have often alleged that successive governments have used the CBI and other agencies as a political tool to arm-twist political rivals. RJD as well as the TMC have alleged "political conspiracy" in corruption charges against their leaders.
The all-party meet was held at Parliament House. Among those opposition leaders who attended the meeting were Ghulam Nabi Azad (Congress), Sharad Pawar (NCP), Sitaram Yechury (CPI-M), Mulayam Singh Yadav (SP) and D Raja (CPI). However, no one from the JD(U) or the Trinamool Congress were present. 
Lalu Prasad and his son, Bihar Deputy Prime Minister Tejashwi Yadav, have denied the charges of corruption hurled at them and accused the BJP of "vendetta politics".
The BJP and even the Bihar Chief Minister Nitish Kumar's party Janata Dal(United) has sought Tejashwi's resignation, a demand categorically rejected by the RJD.