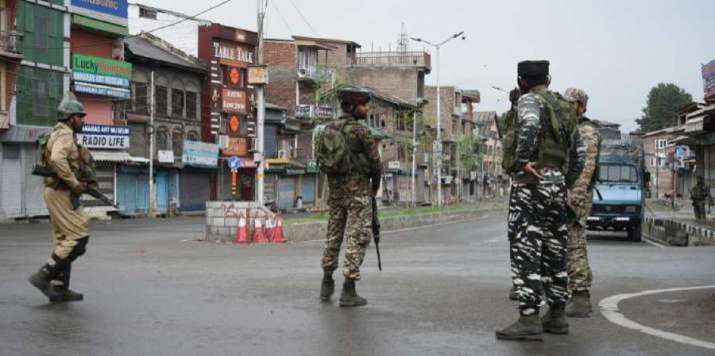 Three Bharatiya Janata Party (BJP) workers were killed in a terror attack in Jammu and Kashmir's Kulgam area late on Thursday. BJP Yuva Morcha general secretary Fida Hussain Yatoo was among the three people killed in the attack.
Preliminary investigation revealed that terrorists fired upon three BJP workers identified as Fida Hussain Yatoo, BJP youth wing general secretary, and party workers Umer Rashid Beigh, Umer Ramzan Hajam at Eidgah YK Pora area. They were shifted to a nearby hospital for treatment, but declared brought dead, the police said. 
"Investigation is in progress and officers continue to work to establish the full circumstances of this terror crime. Area has been cordoned off and search in the area is going on," a statement issued by the local police said. 
Terrorist fired upon 3 #BJP workers -Fida HussainYatoo (BJP Dist Youth Gen secr)
Umer Rashid Beigh(BJP worker) Umer Ramzan Hajam (BJP worker) at Eidgah Y.K.Pora due to which they got injured. They were shifted to nearby hospital & they were declared as brought dead.@indiatvnews pic.twitter.com/SiUyQ8zyWV

— Manish Prasad (@manishindiatv) October 29, 2020
The security forces have cordoned off the area to nab the attackers.
BJP condemns attack
The BJP's Jammu and Kashmir unit described the attack as 'barbaric' and said that those involved in the attack will not be spared. 
"J&K BJP strongly condemned this barbaric terror attack on BJP Leaders Fida Hussain Itoo (BJYM District Gen Secy Kulgam),  Umer Rashid Beigh (BJYM District Executive Member Kulgam), Umer Hanan (BJYM District Gen Secy Kulgam), those who are responsible for this will not be spared," BJP Jammu and Kashmir tweeted. 
"This inferior act reflects the frustration of the terrorists. May God give peace to departed souls and fortitude to their family to bear this terrible loss. Our heartfelt condolences are with their family," the party added.
Jammu and Kashmir has witnessed several attacks on BJP leaders, workers in the recent past. BJP leader Sheikh Waseem Bari, who was the former district president of the party, and two of his family members were killed by terrorists in Bandipora district.