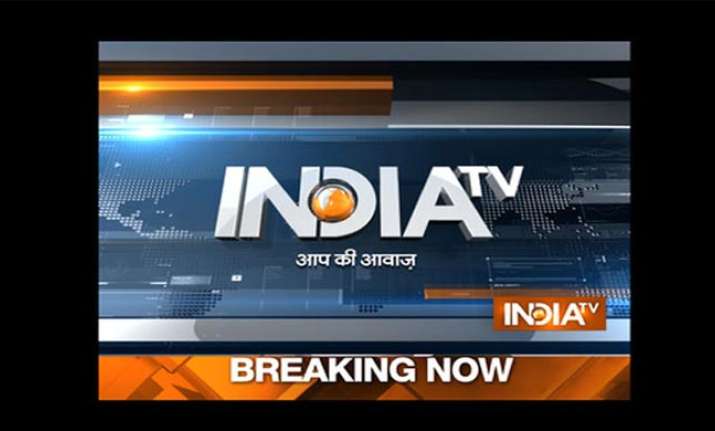 National News
Demonetisation: No question of rollback, Opposition trying to scuttle discussion, says government
Union Finance Minister Arun Jaitley today rejected the demand of the Chief Ministers of Delhi and West Bengal to scrap the demonetisation decision and said that the ruckus by opposition parties in Parliament was a deliberate attempt to scuttle a constructive debate.
As Kejriwal, Mamata knock at RBI's door, pro-Modi slogans raised in protest
Delhi Chief Minister Arvind Kejriwal, who addressed a rally against demonetisation at Azadpur Mandi and later turned up at the Reserve Bank of India office, faced protest at both venues with people raising slogans in favour of Prime Minister Narendra Modi.
Govt extends exemption on toll tax payments at National Highways till November 24
The suspension of toll charges across all National Highways will continue till the midnight of November 24, the government announced today, extending the earlier deadline on November 18 midnight by six days.
Relief for farmers, agri-traders and families celebrating wedding; exchange limit cut to Rs 2000
With the shock demonetisation move in the middle of marriage and sowing seasons causing hardships, the government today eased restrictions on cash withdrawal by farmers and families with upcoming weddings but more than halved the limit at Rs 2,000 for exchange.
Note ban killed more people than Uri attacks, says Ghulam Nabi Azad; ruling MPs fume
Rajya Sabha today witnessed a sharp clash after Leader of Opposition Ghulam Nabi Azad's apparent comparison between the deaths during demonetisation "crisis" and the Uri terror attack casualties, which the ruling side termed as "anti-national" and wanted an apology from Congress.
International News
Modi's note ban has hit informal sector hard, could become 'costly political joke': Chinese media
The "trailblazing" move of scrapping notes of high denominations, undertaken by Prime Minister Narendra Modi, has found critics in Chinese experts who suspect that the step could become a costly political joke if it fails to deliver on the promise of eliminating black money and fake currency.
Bombs strike rebel-held Aleppo and northern Syria, 54 dead
Bombs rained down on rebel-held eastern Aleppo for a second straight day, pounding a district that houses several medical facilities, including the central blood bank, and forcing Syrian staff and patients in the only remaining paediatric hospital to cower in a basement as buildings collapsed around them.
Donald Trump meets Indian business partners in New York, praises PM Modi's work
US President-elect Donald Trump, who is busy in planning the transition to his presidency in January, on Tuesday met his Indian business partners in New York and praised Indian Prime Narendra Modi's work saying 'he is doing a great job'.
Business News
No need to panic or hoard currency, sufficient notes in supply: RBI
The Reserve Bank of India today asked people not to panic or hoard currency as there is sufficient supply of notes.
Cyrus Mistry selectively leaking information to suit his needs: Rediffusion's Arun Nanda joins Tata feud
Arun Nanda, who heads the agency handling public relations for the Tata Group, has joined the ongoing feud between Tata Sons and its ousted chairman Cyrus Mistry asking him not to selectively leak information to suit his needs.
Demonetisation effect: SBI slashes FD rates on select maturities by 0.15 pc
With huge inflow of cash due to the demonetisation drive of the government, State Bank of India (SBI) Wednesday slashed fixed deposit rates on select maturities by up to 0.15 percent.
Entertainment News
I never had issues with him: Shahid Kapoor on his 'rumoured tiff' with Ranveer Singh for 'Padmavati'
Actor Shahid Kapoor has broken his silence on reports of his tiff with Ranveer Singh saying he never had any issues with the actor regarding their upcoming movie 'Padmavati'. Shahid further asserted that he is rather excited to work with Singh in the periodical drama.
Shocking! Intruders spray tear gas and punch Mallika Sherawat in Paris
Actress Mallika Sherawat was sprayed with tear gas and beaten up by three masked intruders in her Paris apartment on November 11, suggest media reports. The incident happened when Mallika along with her French boyfriend Cyrille Auxenfans came back to their residence at around 9:30 P.M local time.
Bigg Boss 10: Fight for second captain begins in the house
The TV reality show 'Bigg Boss 10' is getting interesting with each passing day. After Manveer and Rohan fight got murkier in the last episode, Bigg boss has set the stage for another big tussle called 'captaincy tournament'. In today's episode contestants will be seen competing for the captain's throne.
Sports News
India to play Pakistan in Women's Asia T20: Reports
India have agreed to play against Pakistan in the women's Asia Twenty 20 Cup in Thailand, Pakistan Cricket Board (PCB) sources have claimed.
Haryana sprinter Dharambir Singh handed eight-year ban for failing dope test
Haryana sprinter Dharambir Singh, who tested positive in a dope test just before the Rio Olympics and was barred from participating in the mega event, has been handed an eight-year ban by the National Anti-Doping Agency (NADA).