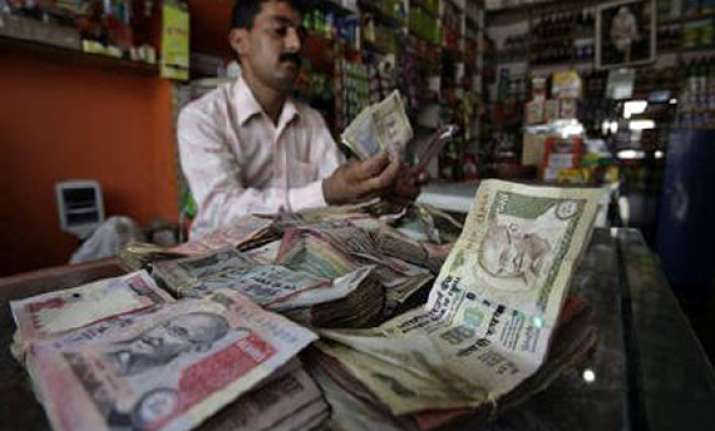 Mumbai, Oct 17: In a highly volatile trade, the rupee today closed at a two-week high of 48.94/95 by gaining seven paise against the US dollar on increased dollar supply. 

Dealers in foreign exchange said signs of fresh capital outflows checked the appreciation of the local currency which in intra-day touched a high of 48.68 in tune with initial gains in stock markets.

FIIs have pulled out USD 16.98 million on October 14 after injecting USD 462.27 million in last five straight sessions, according to SEBI data.

At the Interbank Foreign Exchange (Forex) market, the domestic unit opened higher at 48.92/93 a dollar from the last weekend's close of 49.01/02.

Dealers said dollar selling by exporters and decline in stocks later in the day pulled the rupee down.  Meanwhile, the BSE benchmark Sensex closed lower by 57.60 points, or 0.34 per cent, to settle at 17,025.  The dollar index was up by almost 0.5 per cent against a basket of six major currencies.

The dollar gained against the euro and most other major rivals today after German Chancellor Angela Merkel's spokesman played down expectations of European leaders finalising on a solution to the euro-zone debt crisis.

The rupee premium for the forward dollar fell back on fresh receivings by exporters. The benchmark six-month forward dollar premium payable in March settled lower at 88-90 paise from last weekend's close of 90-92 paise and far-forward contracts maturing in September also declined to 131-133 paise from 135-137 paise previously.

The Reserve Bank of India fixed the reference rate for the US dollar at Rs 48.8925 and for the euro at Rs 67.7880.

The rupee recovered against the pound sterling to finish at Rs 77.06/08 from last Friday's close of Rs 77.30/32. It closed at Rs 67.48/50 per euro. The rupee improved against the Japanese yen to Rs 63.38/40 per 100 yen.