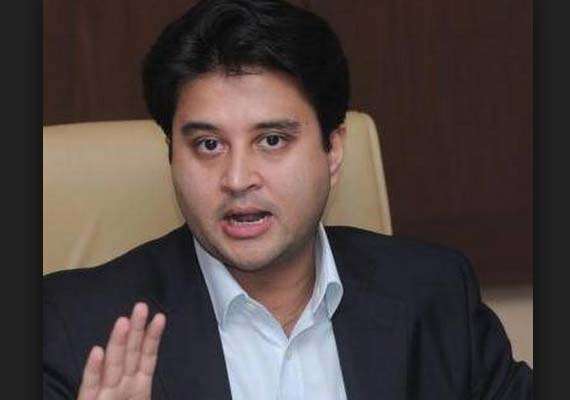 New Delhi, July 25: With over $21 billion of power plants stalled due to natural gas shortfall, Power Minister Jyotiraditya Scindia wants an urgent solution on fuel woes to generate an additional 14,000 MW of electricity. Besides seeking untied gas currently produced or likely to be produced in future by companies like state-owned ONGC and GSPC, Scindia wants fertiliser plants to spare some gas after fulfilling the requirement for producing urea.
In an interview, Scindia said, "30 million tonnes of fertiliser needs to be produced (to meet) the requirement of the agriculture sector (which) indeed was a priority but inspite of that we have to see whether there is any scope to eke out some gas for the power sector." The Minister said the need of the hour is to get gas for the power plants during the current financial year. At present, only a third of the 72 million standard cubic meters per day of gas requirement of the 18,713 MW gas-based power plants is being met. Another 8,000 MW capacity is almost ready for commissioning but there is no gas availability to fire the plants.
"Right now, the discussion is focused as to what can be done in current fiscal. We have to see what tweaking we can do --- 3 or 4 per cent or whatever it may be, to come up with some relief for the plants," he said. Admitting it was a challenging situation to provide gas to the power plants during the current fiscal, Scindia said, "In the short term i.e. in FY'14 it is going to be a problem because we need to supply 30 million tonnes of fertilisers.
The next meeting of the Empowered Group of Ministers' we will look into the solution for this part, it is work in progress. "We have to see whether there is any possibility, can something (gas) be eked out for the power sector and if yes, what is it going to cost," he said. At the same time he added that one or two meetings of the EGOM cannot guarantee decisions and it is work in progress.
Last week, Defence Minister A K Antony headed EGOM rejected the proposal to cut natural gas supplies to urea plants and divert that fuel to power companies. Woes of power plants are largely due to drastic fall in production from Reliance Industries' eastern offshore KG-D6 fields, with present output of just over 14 mmscmd being enough to meet requirement of fertiliser plants, who have been accorded top priority in receipt of gas. No gas flows to 25 power plants that had signed up for 29.74 mmscmd of KG-D6 gas.
The ministerial panel would meet again soon to discuss methodology of making available gas from other sources to power sector in the short term and medium term. Asked whether pooling prices of gas is a solution to the problem of scarcity of the fuel, Scindia said it can only be decided once power sector is brought on par with fertiliser in terms of receipt of gas.
"That is a separate a issue...first we have to be able to look at giving equal priority to power and fertiliser, " he said adding that based on this decision the issue of price pooling can be dealt with. "We will then look at what are permutations and combinations for pooling of gas prices," the Minister said. However, the Power Ministry is confident of supplying gas to the plants in the long term i.e. 4-5 years.
"In the long term we do not see that there is going to be any problem with regard to the supply of gas for the 26,000 MW capacity gas plants which means four to five years down the road and also there would be no problem once the supplies from KG-D6 comes back on line and also when there are more gas finds, we will be able to supply more to the power sector," Scindia added.