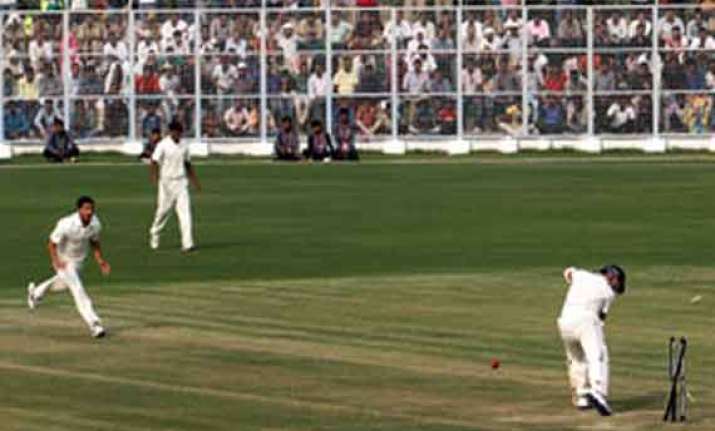 New Delhi : Haryana took a lead of 222 runs with a wicket remaining after bowling out Mumbai for 136 in a Group A Ranji Trophy match at the Bansi Lal Cricket Stadium at Lahli Monday.
Mumbai, who resumed the day at 100/4, could only manage to take a two-run lead as medium pacer Joginder Sharma clinched five-wickets to turn the tables on Mumbai.
Haryana's batting performance was much better in the second innings as they stand at 224/9 at the close of second day's play in Sachin Tendulkar's last domestic match. Zaheer Khan and Vishal Dabholkar bowled well and took four wickets each to restrict the hosts.
Play was washed out even on the second day in the Jharkhand vs Delhi Group A tie because of rain.
Meanwhile in Group B, Satyam Choudhary struck a double ton to take Madhya Pradesh to 510/6 declared while Mohnish Mishra scored 97 against Railways.
Group A:
At Rohtak: Haryana 134 all out and 224/9 (Sunny Singh 63, Rahul Dewan 44; Zaheer Khan 4/59, Vishal Dabholkar 4/54) vs Mumbai 136 all out (
Ajinkya Rahane
51, Dhawal Kulkarni 25 not out; Joginder Sharma 5/16, Mohit Sharma 2/36)
At Jamshedpur: Jharkhand vs Delhi - No play
At Mohali: Odisha 205 all out (Govind Podder 42, Girija Rout 38; Harbhajan Singh 6/54, Sandeep Sharma 2/49) vs Punjab 306/2 (Taruwar Kohli not out 109, Mandeep Singh not out 116; Dhiraj Singh 1/44, Deepak Behera 1/45)
At Nagpur: Vidarbha 85 all out vs Gujarat 304 (Smit Patel 73, Parthiv Patel 65; Shrikant Wagh 4/71, Sumit Ruikar 3/49)
Group B:
At Kolkata: Bengal v Baroda - Match called off
At Indore: Madhya Pradesh 510/6 decl. (Satyam Choudhary 239 not out, Mohnish Mishra 97; Karan Sharma 2/114, Hardik Rathod 1/98) vs Railways 46/1 (V. Cheluvaraj 28, Shivakant Shukla 17 not out; Ishwar Pandey 1/25)
At Rajkot: Saurashtra 475/7 (Sagar Jogiyani 133, Shitanshu Kotak 65; Ramesh Powar 4/177, Singhvi 2/118) vs Rajasthan
At Delhi: Tamil Nadu 456/7 decl. (Baba Aparajith 203, Ramaswamy Prasanna 74; Suraj Yadav 2/63, Nishan Singh 2/84) Services 17 for no loss
Group C:
At Guwahati: Assam 323 all out (Niraj Patel 82, J. Syed Mohammad 40; Vinoop Manoharan 3/49, Chovvakkaran Shahid 3/91) vs. Kerala 119/3 (Nikhilesh Surendran 46, Sanju Samson not out 46; Arup Das 1/54)
At Dharmasala: Himachal Pradesh 429/5 (Paras Dogra 208 not out, Rishi Dhawan 89; Shadabi Jakati 2/132, Saurabh Bandekar 1/141) v Goa
At Pune: Tripura 304 (Yogesh Takawale, Timir Chanda; Sachin Chaudhari 4/44, Shrikant Mundhe 3/77) vs Maharashtra 133/1 (Harshad Khadiwale not out 64, Vijay Zol 42 not out; Rana Dutta 1/32)
At Hyderabad: Hyderabad 221 all out (Vihari 75, Amol Shinde 52; Syed Sahabuddin 4/45, D. Shivkumar 3/27) vs Andhra 85/1 (Prasanth Kumar 32 not out, Srikar Bharat 29; Ashish Reddy 1/29)