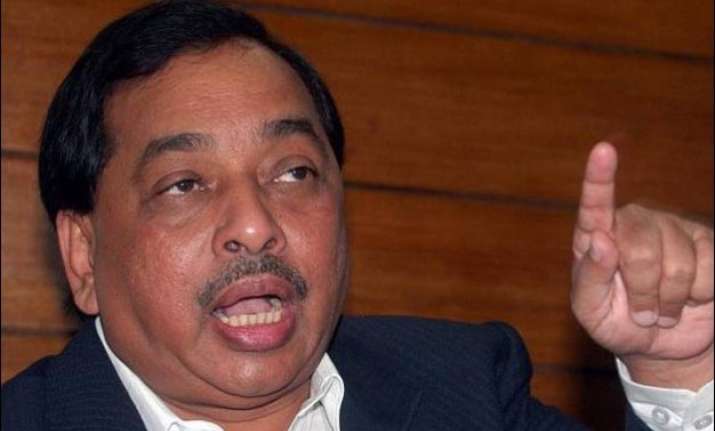 Mumbai:  Congress leader Narayan Rane today alleged that Maharashtra Revenue Minister Eknath Khadse had recommended the Sindhudurg-based Suryakanta Mahila Audyogic Sanstha (SMAS) in 2012 for the procuring of chikki for child welfare centres (anganwadis).
SMAS has been accused of supplying sub-standard chikki to the women and child welfare department since the time of the Congress-NCP government in the state. 
 Rane came under a cloud in the chikki scam after Chief Minister Devendra Fadnavis said that the rate contact was approved when he was state industries minister in the Congress -NCP government.
 Rane, however, has denied any link with SMAS.  "The department under me had decided the rate contract, but we never recommended any contractor. In fact, though SMAS is from my region, it was recommended by BJP minister Eknath Khadse in 2012. I have the recommendation letter from Khadse," Rane told reporters here. 
 Reacting to the Rane's allegation, Khadse said he would have to look into the issue.
"I do not remember making any such recommendation.  People keep coming to me for recommendations.
 I will have to check, since the incident is old. But I wonder if Rane, who was a minister in the Congress regime, would have acted as per my recommendations," Khadse said.
Further rubbishing Rane's claims, Khadse said, "Why did Rane keep mum all these years if the recommendation was made by me? They should clarify if allocation of the contract to SMAS by the Congress-led government was done on my recommendation".
When the issue was raised by the opposition in the state legislature, Fadnavis had claimed that his government was following norms laid down by the previous government and a recommendation for allotment of the contract had come from Rane when he was the Maharashtra industries minister two years ago.