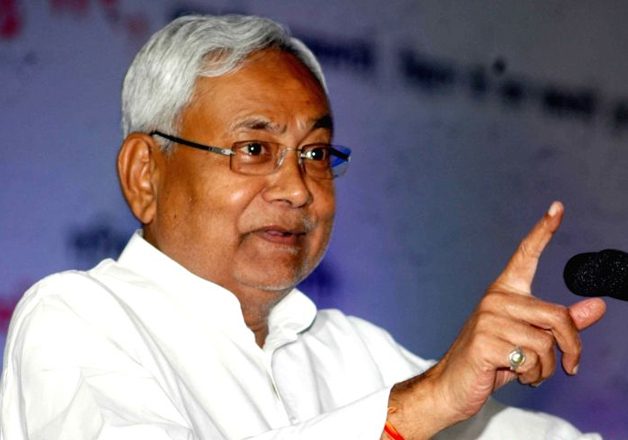 For the third time since the government announced its decision to scrap currency notes of Rs 500 and Rs 1,000, Bihar Chief Minister Nitish Kumar on Friday once again backed Prime Minister Narendra Modi's decision and portrayed the move as a "courageous step". He also junked bits of gossip about a crack in his party's alliance with the Congress and RJD.
Kumar described the Centre's demonetisation decision as "sahsik" (courageous), which, he said, would help in the fight against black money.
However, the attack on black money would yield better results only when scrapping of notes is coupled with an attack on benami properties and prohibition, the Bihar CM said.
"While supporting demonetisation in principle, I, with equal strength, criticise the poor arrangements for its implementation due to which common man is facing hardship," Kumar, who is also the JD(U) National President, said.
"I am seeing a minus with plus whereas many others are seeing only minuses," he said.
"See the speech of former Prime Minister Manmohan Singh in Parliament yesterday. Nowhere did he denounce the spirit of demonetisation but highlighted monumental mismanagement in carrying it out," he said.
"This is the view of almost every party, even those opposed to it, and everybody is referring to improper arrangements to carry out demonetisation," he said and sought to know that how is his stand different from others on the issue?
Rubbishing reports of "confusion or fissures" in the grand alliance due to the divergent views of alliance partners Congress and RJD on the issue, Kumar said, "The grand alliance is only in Bihar and on issues concerning Bihar. On issues outside the state, every party is privy to its own viewpoint...There is no confusion or fissures in a coalition."
The Bihar Chief Minister had first favoured the Centre's demonetisation decision while addressing a 'Chetna sabha' at the start of his second leg of 'Nishchay yatra' in Madhubani on November 16.
(With inputs from PTI)