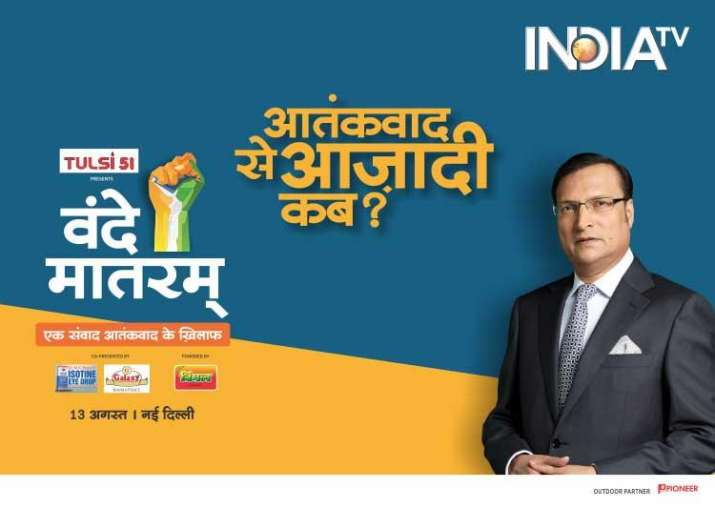 As our country celebrates 70 years of Independence, achieved after a long struggle against a powerful colonial force, it is important to reflect upon the steps that the country has taken towards ridding India of the menace of terrorism and what more is required to protect the freedom that we enjoy. 
There are forces that threaten the freedom that came after the sacrifice of many patriotic Indians from all walks of life. India is currently facing grave security challenges, from Pakistan-sponsored terrorism in Jammu and Kashmir to Naxalism in tribal areas or armed insurgency in North East to growing influence of global terror groups. To protect the integrity of the Republic of India from external as well as internal security threats, India needs to take firm action. 
On Sunday, August 13, 2017, noted personalities belonging from the social and political spectrum gathered under one roof to discuss the menace. The day-long India TV conclave 'Vande Mataram' saw representatives of Opposition political parties pose tough questions before the government and senior ministers provided the audience with answers listing out the challenges and achievements in India's fight against terrorism. They also presented before the people their plan to counter the forces that intend to disintegrate the country, though many were not too elaborate about it. 
The conclave which began with Defence Minister Arun Jaitley's session on India's defence preparedness ended with Home Minister Rajnath Singh's list of achievements against terror forces in different parts of the country. In between, political parties and civil society groups discussed the threats and deliberated upon possible solutions.
Here is how the day unfolded at India TV conclave 'Vande Mataram':
Home Minister Rajnath Singh, who could not attend the event in person because of health issues, said the Centre was working towards a permanent solution (sthayi samaadhaan) to the Kashmir problem. 
He asserted that the influence of the Islamic State in India has been very limited compared to other countries. 
He listed out three major security challenges in India – Pakistan sponsored terrorism, Left Wing Extremism and armed insurgency in the North East. He, however, added that security forces have achieved great success against each of these challenges and promised to "eradicate terrorism from the country."
Defence Minister Arun Jaitley said that terrorism endangers the sovereignty and integrity of the country and it is important that the country speaks in one voice against it. Asserting that the country's security forces were well-equipped to protect the nation from the menace of terrorism, Jaitley said that Indian forces were dominating the International Border and the Line of Control and terrorists were finding it tough to infiltrate into the country.
Jaitley, who also holds Finance portfolio in Narendra Modi government, said demonetisation has dealt a body blow to terrorism in Kashmir and the number of terrorists is on a decline in the Valley. Admitting to the presence of armed terrorists in the Kashmir Valley, Jaitley said they were on the run.
He said Pakistan is using proxy terrorism as matter of policy and that the dividing line between State and non-state actors in the neighbouring country is very thin. 
Yoga guru Swami Ramdev, known for his no-holds-barred comments on critical issues, claimed that "anyone who masters the art of yoga can never become a terrorist". Not a single person who has mastered yoga ever became a terrorist in history, he added. 
He also called for a boycott of all Chinese goods in India, saying that China was fully backing Pakistan in its terror activities. 
Kashmiri activist and Supreme Court lawyer Shabnam Lone said that Burhan wani, killed by security forces in July last year, was not a terrorist. Blasting BJP for joining hands with the PDP to form the government in Jammu and Kashmir, Shabnam Lone alleged that the saffron party could go to any extent to stay in power in the state. 
Speaking on this occasion, BJP spokesperson Sambit Patra said that the main problem in Kashmir was "radicalism" and the spread of "Wahabi Islam". Defending BJP's alliance with the PDP in Jammu and Kashmir, Sambit Patra said that it became necessitated in view of the nature of the mandate given by the people in the Assembly elections.
Participating in the India TV conclave, singer Abhijeet said that he was happy to see that today India has a government which is continuously killing terrorists in Jammu and Kashmir.
Senior Congress leader Manish Tewari today questioned the appointment of General Bipin Rawat as the Chief of Indian Army and termed the decision as 'wrong'. Tewari lashed out at the NDA government, saying 'supersession of two Generals sends a wrong message'.
BJP's Sudhanshu Trivedi, AIMIM leader Asaduddin Owaisi and senior Shiv Sena leader Arvind Sawant, who were also on the panel, said that Army should not be dragged into politics.
Speaking on the government's Pakistan policy, Trivedi reiterated that 'terror and talks can't go together'. "As far as Pak is concerned, it is necessary to establish both strategic and diplomatic ways. Government's strategy is very clear - 'terror and talks can't go together.'"
Also Read: Vande Mataram India TV Conclave on countering terrorism: As it happened
Owaisi tried to corner the government over its 'failed policies' to check the menace of terrorism. He said that the government should make intelligence agencies accountable if it wants to fight terrorism.
Sena's Sawant called for cutting all ties with Pakistan, saying, "The only way is to cut down all existing relations with Pakistan."