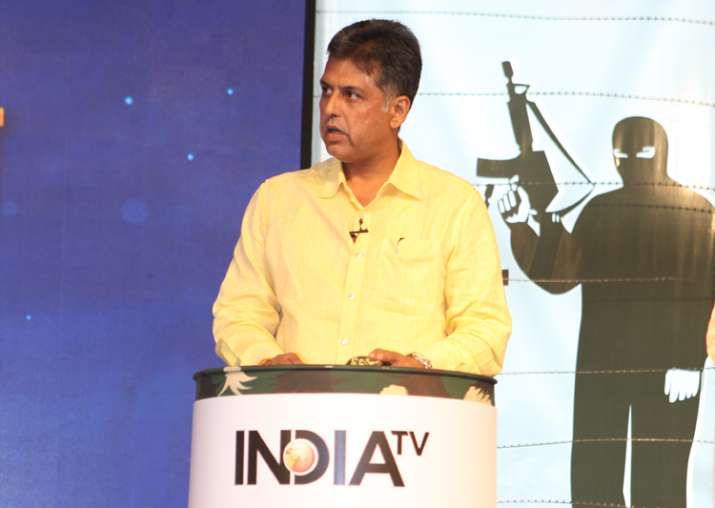 In a remark that could trigger a fresh controversy, senior Congress leader Manish Tewari today questioned the appointment of General Bipin Rawat as the Chief of Indian Army and termed the decision as 'wrong'. Participating in a panel debate organised by India TV as part of 'Vande Mataram', its mega conclave on terrorism, Tewari lashed out at the NDA government saying 'supersession of two Generals sends a wrong message'.
"Why did you opt for supersession in the Armed forces? Why did you appoint a third rank General as the Chief of Army Staff? I firmly say that the supersession was a wrong decision. In case of Lt Gen SK Sinha, you chose supersession which shouldn't have taken place," Tewari said, prompting many guests sitting in the hall to ask him to withdraw his words.
The BJP-led NDA government had last year appointed General Bipin Rawat as the 27th Army Chief superseding two Generals -- Praveen Bakshi and PM Hariz, both of whom accepted to serve under him. This decision had triggered a controversy with many accusing the government of nepotism and compromising with the set principles.
In Pics: Vande Mataram India TV: Manish Tewari Questions Government For Not Appointing Full-time Defence Minister
Demonetisation has dealt a blow to terror funding, says Jaitley
BJP's Sudhanshu Trivedi, AIMIM leader Asaduddin Owaisi and senior Shiv Sena leader Arvind Sawant, who were also on the panel, said that Army should not be dragged into politics.
Trivedi called for 'unity among political parties' to eliminate terrorism from the Kashmir Valley. Terming the decades-old Indo-Pak conflict a 'strange case', he said, "A powerful national had to approach the United Nations. Usually a small or a weak country moves to the UN for help, here we had sought help from the world body."
"Political unity, ideological clarity is needed to counter terrorism," the BJP leader added as he sought to blame 'Nehru and Abdullah family for the Kashmir issue'.
To a question related to abolishing of Article 370 and the BJP-PDP alliance, he said, "PDP has shown signs of improvement after it joined ranks with the BJP. It was an honest effort." 
To this, other speakers said that both the parties have failed on all fronts in the state. "Your (BJP) decision to forge an alliance with the PDP was wrong," Tewari said. "BJP has clearly mentioned in the 'agenda of governance' that there won't be any discussion on Article 370." 
Sena's Sawant, however, backed Trivedi on the issue of Article 370 but voiced reservation over the alliance between PDP-BJP in the Valley. Calling Kashmir an integral part of India, he said, "We believe in the principle of one nation, one Constitution. Abolish Article 370, we will handle every situation." 
He noted: "Jammu and Kashmir CM Mufti Mohammad Sayeed had credited Pakistan and the terrorists for peaceful elections in the state in 2015."
AIMIM chief Asaduddin Owaisi jumped into the debate and asked that Article 370 should not be abolished. "This will result in losing Jammu and Kashmir from our hands," he said.
Speaking on the government's Pakistan policy, Trivedi reiterated that 'terror and talks can't go together'. "As far as Pak is concerned, it is necessary to establish both strategic and diplomatic ways. Government's strategy is very clear - 'terror and talks can't go together.'" 
Sena's Sawant called for cutting all ties with Pakistan, saying, "The only way is to cut down all existing relations with Pakistan." 
"When Atalji started Samjhauta Express, our beloved later leader Balasaheb had opposed this move saying 'terrorists will start arriving here.'"
Owaisi tried to corner the government over its 'failed policies' to check the menace of terrorism. He said that the government should make intelligence agencies accountable if it wants to fight terrorism. "If you seriously want to tackle terrorism, government should make intelligence accountable. Why successive governments have failed to do so?"
Tewari, on the other hand, batted for holding talks with Pakistan and Hurriyat leaders to eradicate terrorism from Valley. "Terrorism is a very sensitive issue. Time has come to strengthen our ways to fight terrorism."
According to government's statistics, as many as 95 terrorists were eliminated in Jammu and Kashmir between January and July 9, while this figure was 150 for 2016. The data show that 150 terrorists – the highest since 2011 – were neutralised in 2016 in Jammu and Kashmir which faced 322 terror incidents in which 82 security men and 15 civilians were killed.
In 2015, 108 terrorists were killed during clashes with security forces at different places, while 39 security personnel and 17 civilians also lost their lives in 208 terror incidents. In 2014, 110 terrorists were killed in different shootouts in the Valley, which witnessed 222 incidents of terrorist violence and killing of 47 security personnel and 28 civilians. In 2013, 67 terrorists were neutralised while 53 security personnel and 15 civilians were killed in 170 terror-related incidents. In 2012, 72 terrorists were killed, apart from 15 security personnel and a similar number of civilians in 220 violent attacks. In 2011, 100 terrorists were killed, apart from 33 security personnel and 31 civilians in 340 terror incidents.
The discussion was part of India TV's mega conclave Vande Mataram. Led by Chairman & Editor-in-Chief Rajat Sharma, India TV's team of premier journalists gave their best to focus on the solution approach and creating an environment for a broad spectrum consensus on the issue.