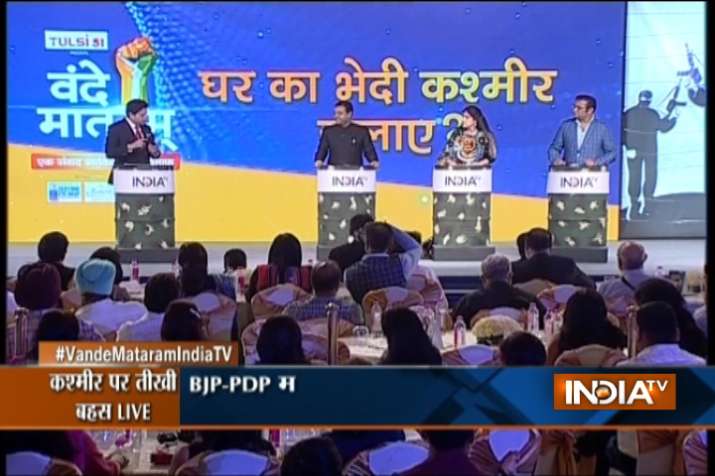 In a controversial statement, Supreme Court lawyer Shabnam Lone today  said that Burhan wani, killed by security forces in July last year, was not a terrorist.
Speaking at VANDE MATARAM - India TV's mega conclave against terrorism, Shabnam Lone said that before questioning her for not considering Burhan Wani a terrorist, the BJP should explain its stand on that PDP minister in Mehbooba Mufti government who recently said that the happiest day of his life was when he had lunch with Burhan Wani. 
"Burhan Wani was not a terrorist and I will say it again and again," Shabnam Lone said.
Hizbul Mujahideen terrorist Burhan Muzaffar Wani was killed by security forces in Anantnag on 8 July 2017. His killing had led to widespread violence in the state that continued for more than 100 days. 
However, Shabnam Lone, who is also the sister of Kashmiri minister Sajjad Lone,   avoided any answer on Pakistani terrorist Abu Dujana,  who was recently killed by security forces in Kashmir valley, by saying that she did not know who he was.
" I don't know Abu Dujana," she said in a terse reply. 
Blasting BJP for joining hands with the PDP to form the government in Jammu and Kashmir, Shabnam Lone alleged that the saffron party could go to any extent to stay in power in the state.
Though Shabnam Lone conceded that she considered herself an Indian, she made it clear that she lacked a sense of belongingness. 
"I am an Indian but I don't have sense of belongingness," she said.
She also made it clear that she had no soft corner for Pakistan and added that if referendum takes place in the valley, she will not opt for Pakistan.
Speaking on this occasion, BJP spokesperson Sambit Patra said that the main problem in Kashmir was "radicalism" and the spread of "Wahabi Islam".
"The problem in Kashmir is radicalism. Wahabbism has been deliberately spread in Kashmir and that's the real problem," Sambit Patra said.
Defending BJP's alliance with the PDP in Jammu and Kashmir, Sambit Patra said that it became necessitated in view of the nature of the  mandate given by the people  in the Assembly eletions.
However, he pointed out that the BJP has not compromised on the issue of terrorism and the continuous killing of terrorists proves BJP's resolve. 
"130 terrorists have been killed since January this year," Sambit Patra said.
"Burhan ho ya Dujana, Marenge ek rozana," he added.
The BJP spokesperson also said that abrogation of Article 370 was always a  core issue for his party and will always remain so.
Terming Article 35A as "discriminatory", he said that this article was added to the constitution without following the parliamentary procedure.
Participating in the India TV conclave, singer Abhijeet said that he was happy to see that today India has a government which is continuously killing terrorists in Jammu and Kashmir.
"It's good that more and more terrorists are being killed, it's good that stone pelters are being tied to Army jeeps, we needed such a government in power," Abhijeet said.