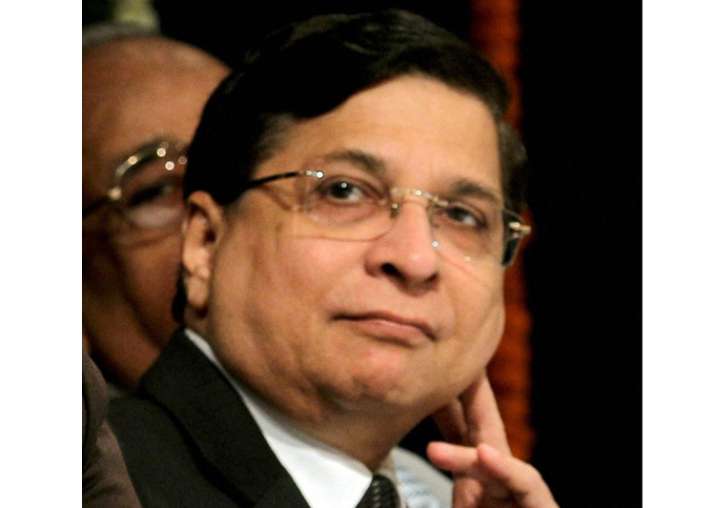 Justice Dipak Misra, the senior most judge in the Supreme Court, will be the 45th Chief Justice of India, succeeding incumbent JS Khehar. An official notification announcing Misra's appointment was issued by the law ministry today.
One of the most eloquent judges in the apex court, Justice Misra, 63, has been a part of several key verdicts, such as sending Mumbai blasts convict Yakub Memon and four men who raped and killed a physiotherapy intern to the gallows. 
Justice Misra, who will have a tenure of over 13 months as the CJI after he takes over on August 28, has a sensitive assignment on hand -- the vexatious title dispute in the Ram Mandir and Babri Masjid case. His tenure will be a busy one, for as the CJI he will be part of benches deciding on crucial issues such as, apart from the Ayodhya title case, the Cauvery waters dispute, SEBI-Sahara payment row, BCCI reforms, the Panama Paper leaks and on privacy policy. 
Justice Misra, who was elevated to the apex court bench on October 10, 2011, from the Delhi High Court, where he was the Chief Justice, has already presided over several key cases and verdicts. 
He headed the bench which, in an unprecedented pre-dawn hearing in 2015 when the doors of the apex court were opened at 1 AM, rejected last-ditch efforts by Memon to get his execution stayed. 
Justice Misra also headed a three-judge bench which upheld the Delhi High Court's verdict sentencing to death the four convicts of the sensational December 16, 2012, gangrape-cum-murder case of Delhi. 
The "brutal, barbaric and diabolic nature" of the crime could create a "tsunami of shock" to destroy a civilised society, the verdict, penned by Justice Misra, had said. He headed the apex court bench which upheld the constitutional validity of 156-year-old penal laws on defamation, holding that the "reputation of one cannot be allowed to be crucified at the altar of the other's right of free speech". 
In an order, hailed by nationalist organisations, Justice Misra mandated the playing of the national anthem before the screening of films in cinema halls. 
Another significant judgement by Justice Misra was the one directing states and union territories to upload FIRs on websites within 24 hours of their registration for enabling accused and others to file appropriate pleas in the courts for redress. 
Justice Misra, who was enrolled as an advocate in 1977, had practised in constitutional, civil, criminal, revenue, service and sales tax matters in the Orissa High Court and Tribunals before being elevated to the High Court bench. He was appointed Additional Judge of the Orissa High Court in January, 1996, after which he was transferred to the Madhya Pradesh High Court in March, 1997. 
In 2009, Justice Misra became the Chief Justice of the Patna High Court and assumed charge as the Chief Justice of the Delhi High Court in May, 2010. He was appointed a Judge of the Supreme Court of India on October 10, 2011.