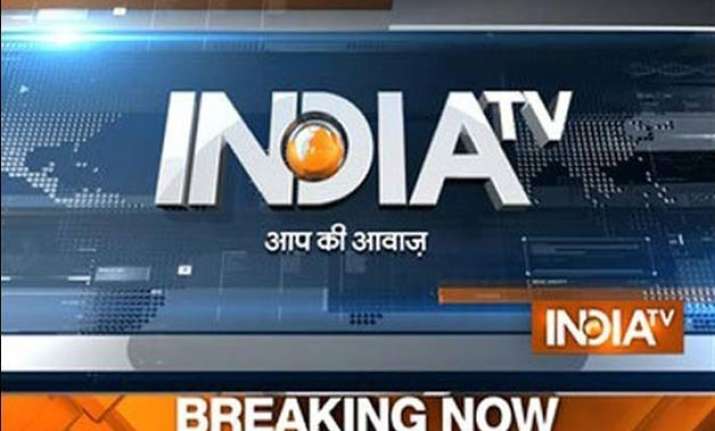 National News
15 killed, over 100 trapped as under construction bridge collapses in Kolkata
Kolkata: At least 15 people were killed and over 150 injured after an under construction bridge collapsed near Ganesh talkies in North Kolkata. Rescue operations are underway.  Eyewitnesses claim over 150 people are trapped under the bridge. Read More
Naqvi demands CBI probe into flyover collapse  
Kolkata: Union Minister Mukhtar Abbas Naqvi today criticised the slow pace of rescue operation by West Bengal government and demanded a CBI probe into the under-construction flyover collapse incident.
Politics of violence will not be tolerated: Rajnath
Purulia: Union Home Minister Rajnath Singh today said BJP will not tolerate the politics of violence being unleashed across the country by some quarters. Addressing an election meeting here, Singh alleged a concerted effort was on to create disturbance in the country to discredit the "good governance" of BJP-led NDA government.
Never sought or acquired British citizenship, allegation a political conspiracy: Rahul Gandhi
New Delhi: Congress vice-president Rahul Gandhi today denied the allegation that he once held British citizenship terming the charge as a 'political conspiracy' to tarnish his image. Read More
International News
Sweden's Landvetter airport evacuated after bomb threat, two suspicious bags found
Gothenburg (Sweden): A bomb threat and unverified reports of a 'controlled explosion' at the Landvetter airport, Sweden's second largest, has sent the security apparatus in a tizzy. Read More
PM Modi arrives in Washington, to attend Nuclear Security Summit
Washington: Prime Minister Narendra Modi arrived here early today to attend the two-day Nuclear Security Summit where world leaders from over 50 countries are expected to share their assessment of the threat from nuclear weapons and materials. Read More
US stands with Pakistan after Lahore attack: Obama tells Sharif
Washington: President Barack Obama has reaffirmed the US' commitment to partner with Pakistan to combat terrorism after the "appalling" Easter Sunday bombing in Lahore that killed 74 people. Obama telephoned Pakistan Prime Minister Nawaz Sharif to condole the deaths in the attack on innocent civilians. Read More
Business News
Samsung launches Galaxy J3 (2016) at Rs. 8,990: Things to know about the latest smartphone
New Delhi: Samsung launched a new smartphone in India, called the Galaxy J3 (2016). One of the highlights of this smartphone is a dedicated 'S bike mode', a feature that is aimed to help bikers concentrate on the road without getting disturbed by calls and notifications. The Galaxy J3 (2016) is priced at Rs 8,990 and will be exclusively available on Snapdeal. Read More
Make In India: Lockheed Martin eyes India as manufacturing base for F-16 jets
Goa: Plane-maker Lockheed Martin Corp. feels it is an ideal time to bring in its expertise and set up its final assembly line for flagship planes including the F-16Vs from Indian soil. Read More
Rlys to seek over Rs 1 L cr for safety upgradation
New Delhi: To accomplish its zero-accident mission, railways will seek over Rs 1 lakh crore from the Finance Ministry as non-lapsable fund to strengthen safety measures on the rail network in a comprehensive way.
Entertainment News
5 reasons why you can't afford to miss Kareena-Arjun's romantic drama in 'Ki & Ka'
New Delhi: Every Friday when a film is released, a lot of expectations are attached to it, be it by the audience or the makers. While the audience watches a new movie with an enthusiasm of getting to see a new concept, a new story, the makers put in the best of their efforts to please the audiences. Read More
'Jungle Book' Hindi version'll be epic: Priyanka
Los Angeles: Priyanka Chopra has voiced the chracter of python Kaa, one of Mowgli's mentors in the Hindi version of American film "The Jungle Book", and the actress feels the movie will be an "epic" experience for audience.
Here's what Sanjay Leela Bhansali has to say about Deepika Padukone's absence in his party
New Delhi: The B-town is in a celebratory ever since this year's National Awards have been announced. However, there is this one celebrity who is making to the headlines despite not winning a National Award. Yes! You guessed that right. We are talking about Deepika Padukone. Read More
Sports News
World T20, 2nd Semi Final: Kohli blasts as India set WI a target of 193 runs
Mumbai: India concluded their innings at 192/2 in the second semi final of the ICC World Cup 2016 against West Indies at Wankhede Stadium in Mumbai. Virat Kohli, once again emerged India's star batsman scoring 89 off 47 balls. He, however, was given ample chances by the Caribbean fielders. Read More
World T20: A semifinal exit again but it's not a jinx, insists Williamson
New Delhi: Yet another semifinal exit from a big ICC event but New Zealand captain Kane Williamson refuses to call it a jinx, saying that the loss to England in the World Twenty20 last-four stage was just a case of going down to a better team on the given day. Read More
Shiva qualifies for Olympics, heartbreak for Mary
China: World Championships bronze-medallist Shiva Thapa (56kg) today became the first Indian boxer to make the cut for this year's Olympics by entering the Asian Qualifying Tournament's final but the celebrated M C Mary Kom (51kg) failed to book her Rio Games ticket after losing in the last-four stage.