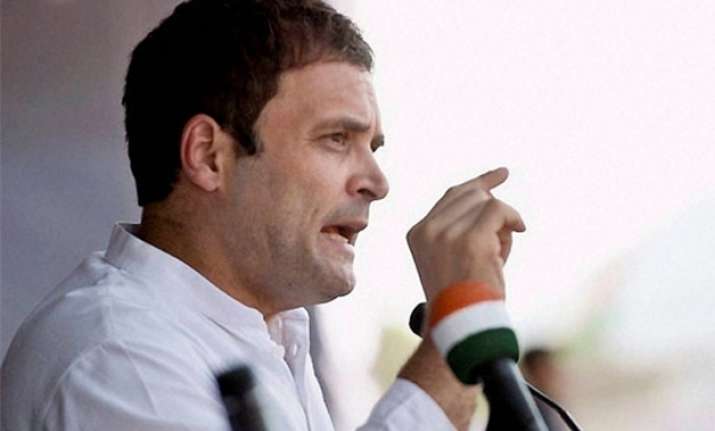 New Delhi: Congress vice-president Rahul Gandhi today denied the allegation that he once held British citizenship terming the charge as a 'political conspiracy' to tarnish his image.
Replying to a recent notice sent to him by the Lok Sabha Ethics Committee on his citizenship row, he said, "I am surprised that the committee of ethics has chosen to take cognizance of a complaint that is not in order. This is an endeavour to malign my good name…I have never at any stage sought or acquired British citizenship. My identity is that of an Indian."
"The complainant should produce evidence to substantiate his allegation and must ensure that the complaint is not false. He must file an affidavit to support his complaint. The documents on which he relies in support of his contention nowhere mention that I have ever declared myself as a British citizen. It is evident that the complainant has wantonly misled," he told the panel headed by senior BJP leader LK Advani.
Earlier in January this year, Lok Sabha Speaker Sumitra Mahajan had forwarded to the Ethics Committee the complaint of BJP MP Maheish Girri requesting for 'appropriate inquiry' into party colleague Subramanian Swamy's allegations that Rahul had declared himself a British citizen to float a firm in that country.
Following this, the panel issued a notice to the Congress leader seeking his reply on the allegations pitted against him regarding the declaration of his citizenship in the United Kingdom.
"Citizenship is a matter is fact. Whether I have ever sought or acquired British citizenship would be part of the official documents with the British Home Office and this fact could have been ascertained from the source before pressing the complaint. I urge Swamy for placing on record any proof of Rahul Gandhi being a British citizen by disclosing his alleged British passport number and relevant documents," his reply reads.
 
The matter relates to 2003 when Rahul had allegedly declared himself as a British national while acquiring stake in a firm there. Congress has repeatedly denied the charge that Rahul ever sought or acquired British citizenship.