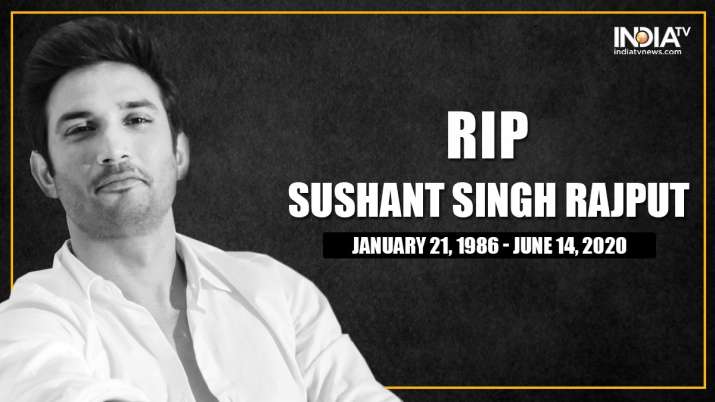 Actor Sushant Singh Rajput was found hanging in his Bandra residence on Sunday, sending shockwaves through the Hindi film industry and the country. His fans are asking just one question -- why? He was 34. Rajput, who made the storybook transition from Patna boy to television and then the starry lights of the Hindi film industry, was the youngest of five siblings and is survived by his father and four sisters. Sushant's body is in Mumbai's Cooper Hospital for post-mortem. He has tested negative for Covid-19. A team of Bandra Police and Crime Branch is investigating. Postmortem was conducted late at night and the report says that the actor died due to hanging. Cremation will take place on Monday.
Police investigation and other Updates: 
Police confirm his death due to hanging after postmortem report that was released on Monday.
Sushant Singh Rajput's family have arrived in Mumbai from Patna.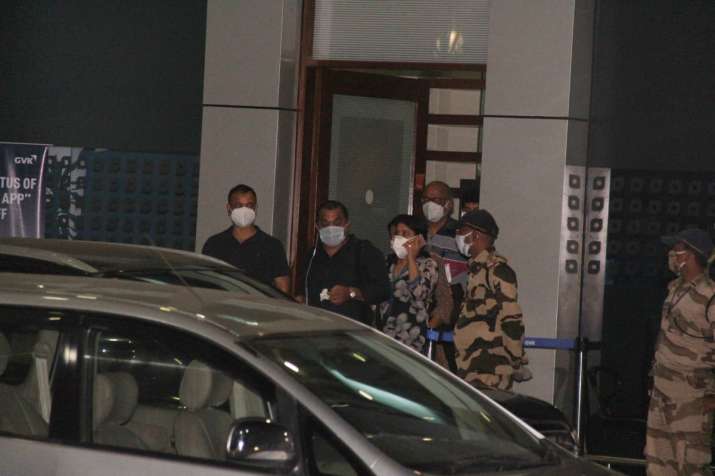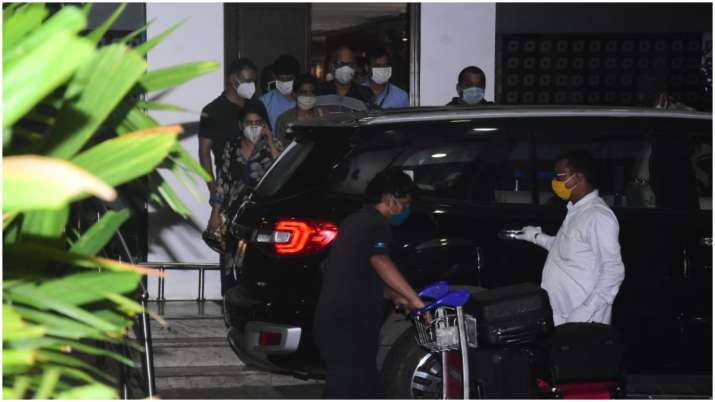 Sushant Singh Rajput's last rites to be held in Mumbai tomorrow after his father and other family members arrive in Mumbai from Patna. His postmortem was conducted at 11.30 at night. The result will be released in the morning on Monday.  
Sushant Singh Rajput hung himself using a green-colored cloth from his house. His sister, who lives in Goregaon, has reached to his house when the servants told her that the actor is not opening his door.
The actor's dead body has been taken to the mortuary. Doctors are waiting for Sushant's family members to begin the post mortem procedure. Bandra and Juhu Police are present at the hospital.
Sushant Singh Rajput's sister has told the police that the actor wasn't facing any financial crisis. He was reportedly paying more than Rs 4 lakh as rent per month. 
Sushant Singh Rajput was about to get married in November and the family was gearing up to go to Mumbai for the wedding, reveals the actor's cousin brother. Full Story
Sushant Singh Rajput's servant has revealed that the actor was very depressed for the last ten days. He told his servant three days ago that he has paid off all the money lent but he is unsure if he will be able to pay the salaries of his house help or not.
Sushant's body was tested for COVID-19 and was negative. Post mortem procedure to begin. 
Sushant was suffering from depression. The police have revealed that the actor was getting treatment from Hinduja hospital for last six months.
Sushant Singh Rajput's sister, family member Abhishek Singh and two other friends have reached Cooper Hospital where the actor's post mortem will take place.
Sushant had made his last call to TV actor Mahesh Shetty. The two had worked together in Sushant's first show Kis Desh Mein hai Mera Dil and was one of his closest friends. The actor had also called his sister in the morning at 9:30 am. 
Sushant's two mobile phones and a laptop have been given to the forensic team for investigation.
Police have recorded Sushant Singh Rajput's house owner's statement and also his doctor's statement has been taken. His bank statements have also been called for.
Sushant Singh Rajput had rented his Bandra home in Mumbai about six months back. The rent of the house was Rs 4.5 lakh per month. He used to live with an art designer, one cook and two other house helps. 
Dr. Harish Reddy and other two doctors will perform Sushant Singh Rajput's post mortem in Cooper Hospital. The process will take 2-2.5 hours.
According to India TV reporters in Mumbai and Patna, when the house help could not break the door of the actor's room, his manager called a key maker. When they opened the door, they found Sushant hanging by the fan. The key maker's statements is being recorded by the police.
Crime Branch team has reached Sushant's house for investigation
Also read: Sushant Singh Rajput's team to fans: Celebrate his life and his work
Househelp and friends present at the time of Sushant's suicide are being investigated. Their statements are being recorded at his Bandra home.
Sushant's uncle has claimed that the actor has been murdered. He has asked for an investigation.
Sushant's father fainted after hearing about the news of his son's suicide. The crowd has gathered in front of Sushant's house in Patna. The family is in shock.
Sushant Singh Rajput's body taken to Cooper Hospital in Juhu for post mortem.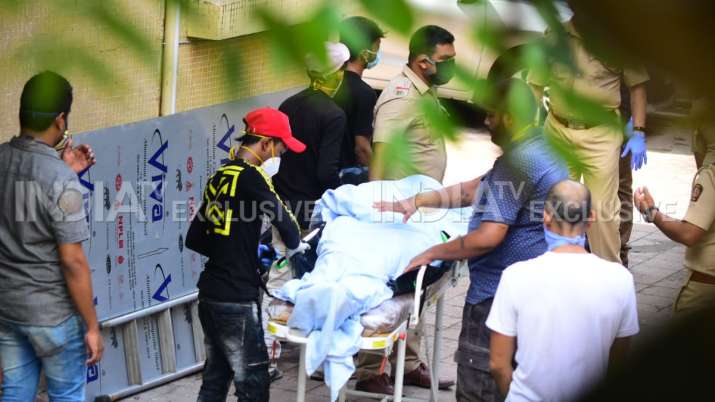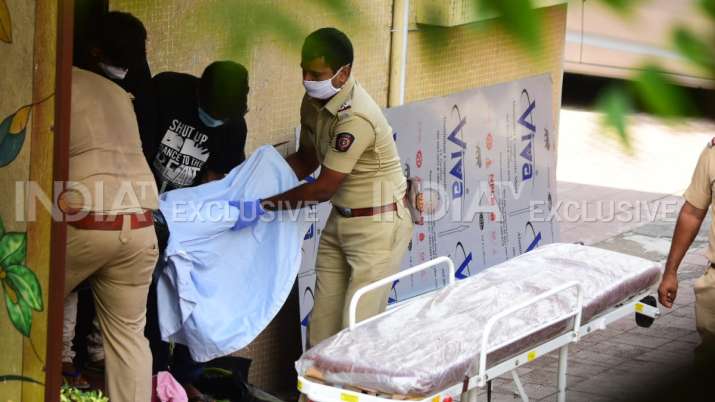 Also read: Sushant Singh Rajput's last photo with Rhea Chakraborty goes viral
Police have found no suicide note in the house. He is survived by his father and four elder sisters.
The actor had some juice in the morning then went inside his room and locked. During lunch time, his domestic help tried to open the door, but there was no answer. Later he was found hanging inside the room.
Sushant used to live away from his family, his father lived in Patna. 
Police have found some medical prescriptions and medicines too from his house that he was taking from the last six months. 
In his last Instagram post, Sushant Singh Rajput had remembered his mother and said, "Blurred past evaporating from teardrops...Unending dreams carving an arc of smile...And a fleeting life,..negotiating between the two."
An accidental death report will be registered on the basis of preliminary information sources from the Bandra Police said. No note was found from the spot, they said. Police sources also said they did not find any foul play in their initial investigation. A medical report about the cause of death is awaited, the police said.
Rajput's sudden death comes days after his former manager, 28-year-old Disha Salian, ended her life by jumping from a high rise building on June 9.
"It's such devastating news. My deepest condolences to Disha''s family and friends. May your soul rest in peace," he had said, mourning her death.
Back home in Patna, as crowds gathered outside Rajput's father's home, Laxmi, the caretaker, told mediapersons that the actor''s eldest sister who lives in Chandigarh would be flying in to accompany their father to Mumbai.
In one of the first reactions, actor Riteish Deshmukh tweeted: "Shocked beyond words... Sushant Singh Rajput is no more... Deeply saddened." 
Rest in Peace Sushant Singh Rajput: Actor's best memories in pictures
Sushant started his career with the Television show Kis Desh Mein Hai Mera Dil and rose to fame with Pavitra Rishta. With the Zee TV show, he ruled the hearts of the people for many years. His on-screen chemistry with actress Ankita Lokhnade was much appreciated by the viewers.  
ALSO READ: RIP Sushant Singh Rajput: PK to Chhichhore, 5 movies that prove he was a powerhouse of talent
WATCH: Unheard stories of Sushant Singh Rajput | Special
If you need support or know someone who is under depression or suicidal, please reach out to mental health specialists or helplines. AASRA: 91-22-27546669 (24 hours) Sneha Foundation: 91-44-24640050 (24 hours) Vandrevala Foundation for Mental Health: 1860-2662-345 and 1800-2333-330 (24 hours)