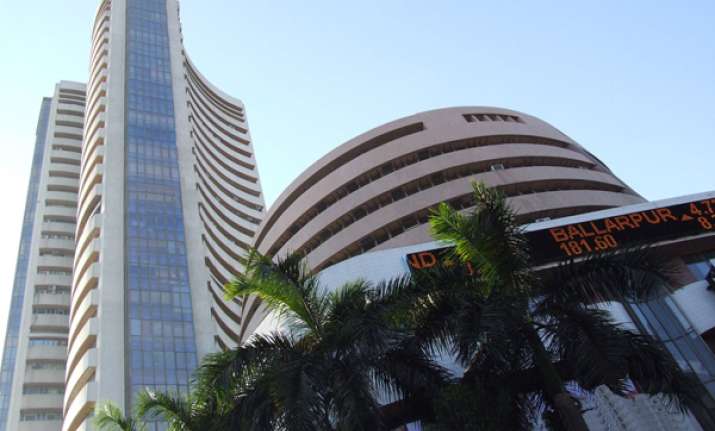 Mumbai, Apr 27:
ICICI Bank's healthy fourth quarter numbers helped the Sensex reverse intra-day losses of over 100 points and close in the positive territory with support from IT stocks including Infosys and TCS.
After opening higher at 17,145.29, Sensex touched a intra-day low of 17,022.09. Better-than-expected ICICI Bank results spurred late buying helping the benchmark helped recoup losses and finally end the day at 17,134.25, a mere gain of 3.58 points over its previous close.
Brokers said banking stocks led initial gains on the bourses following the Cabinet clearing the much-awaited Banking Law (Amendment) Bill that proposes to raise the voting rights cap in private sector banks to 26 per cent.  ICICI Bank notched up a handsome gain of 2.28 per cent.
Another private sector lender HDFC bank also ended the day higher 0.18 per cent.
Among the Sensex stocks, Hindalco (2.15 per cent), Gail (1.53 per cent) and Infosys (1.36 per cent) were the other notable gainers.
"The markets had opened on a positive note moved sideways during the morning session till noon but in the second part of the day, we saw markets slipping into red and moved sideways to finally close for the day on a flat note...ICICI Bank gave a booster to the banking stocks," said Geojit BNP Paribas, Head Research, Alex Mathews.
The NSE 50-share Nifty also inched up by 1.60 points or 0.03 per cent to finish at 5,190.60.
The stock exchanges are holding a special 1-1/2-hour trading session tomorrow, April 28, as the National Stock Exchange (NSE) is upgrading the capacity of its futures and options (F&O) trading system hardware and software to improve processing capability and handle increased activities in the market. Trading will start at 11.15 am and end at 12.45 pm.
European stock markets were trading higher, in a choppy market, with drug makers providing support after solid Sanofi SA earnings, while pressure remained on Spain after a double-notch credit downgrade. Key benchmark indices in France, UK ang Germany rose by 0.10 per cent to 0.21 per cent.  Most Asian shares ended lower amid volatility. Key indices in Japan, Hong Kong, China, Singapore and Taiwan fell by in the range of 0.33 per cent to 0.54 per cent while South Korea's Kospi rose by 0.58 per cent.
Out of the 30-share Sensex, 16 stocks finished with gains while 14 ended with losses.
Major losers in the Sensex pack were Coal India fell by (2.24 pc) followed by SBI (1.55 pc), BHEL (1.47 pc), Bajaj Auto (1.43 pc), Jindal Steel (1.41 pc), ITC (1.36 pc), Sterlite Industries (1.23 pc) and Tata Steel (0.87 pct).  Among the sectoral indices, BSE-CD index shot up 1.44 per cent followed by the BSE-IT (1.20 per cent), BSE-Teck (0.67 pc) and BSE-Bankex (0.16 pc).
However, BSE-PSU index declined by 0.84 per cent followed by BSE-FMCG (0.84 pc), BSE-Metal (0.83 pc) and BSE-Realty (0.83 pc).
The overall market breadth continued to show negative trend as 1,113 shares finished with losses while 1,023 shares ended with gains. The total turnover dropped to Rs 2,021.54 crore from Rs 2,401.97 crore yesterday.
Foreign institutional investors (FIIs) sold shares worth Rs 376.08 crore yesterday as per provisional data from the stock exchanges. FIIs have sold shares worth Rs 1985.18 crore in four days from April 23 to April 26.