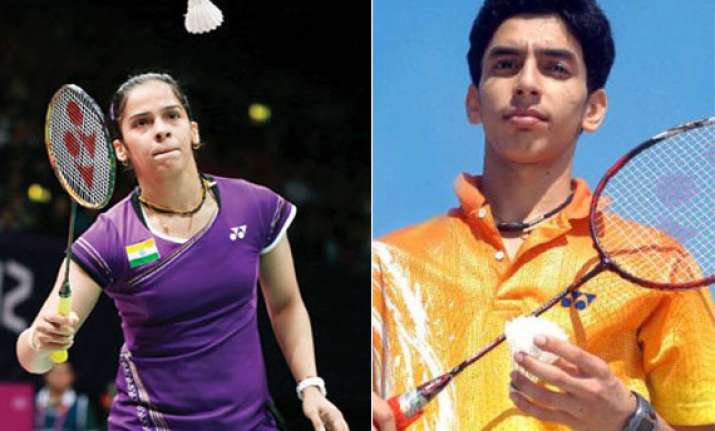 Odense (Denmark): Saina Nehwal and R.M.V. Guru Sai Dutt crashed out of  the $400,000 Denmark Open Super Series Premier here Friday after both  losing their respective quarterfinals.
In a marathon women's single thas lasted for one hour and six minutes, Saina, the defending champion, dragged  Ji Hyun Sung of South Korea to three sets but eventually lost the contest 21-13, 18-21, 19-21. R.M.V. Gurusaidutt lost 11-21, 19-21 in 46 minutes to the men's singles third seed Du Pengyu of China at the Odense Sports Park.
Saina had defeated sixth seeded Ji  four times before and this their fifth meeting. World no 4 Saina dominated her opponent in every sectore in the first set. She net placing and smashes won her many points.
But in the second set the South Korean slowly  settled down in the second set and matched Saina shot-for-shot. Leading 14-12, Ji then notched five straight points to almost seal the game. The Indian tried clawing back by negating three game points, but Ji pushed the match into the decider.
The third game was a close affair where the maximum difference of points was three. Towards the end of the game, down 13-16, the London Olympics bronze medalist pulled back three points to level the scoreline at 16-all.
Ji stroked away into the lead again and Saina clawed back. At 19-all it was anybody's game but Ji showed nerves to kitty the game and match.
Both players had equal number of smash winners to their name while Saina had 14 net points to Ji's 11. But it was the crucial junctures of the match, where the Korean clinched the points when it was most required.
Later in the day, Guru Sai Dutt did not look in control from the start and lost the first game without any fight.
In the second game though, the Indian built up a big 12-7 lead but the World No.3 clawed back and won six straight points to go into the lead. Guru Sai Dutt tried fighting back and matched the Chinese but the latter showed his experience to win the contest on his first matchpoint.