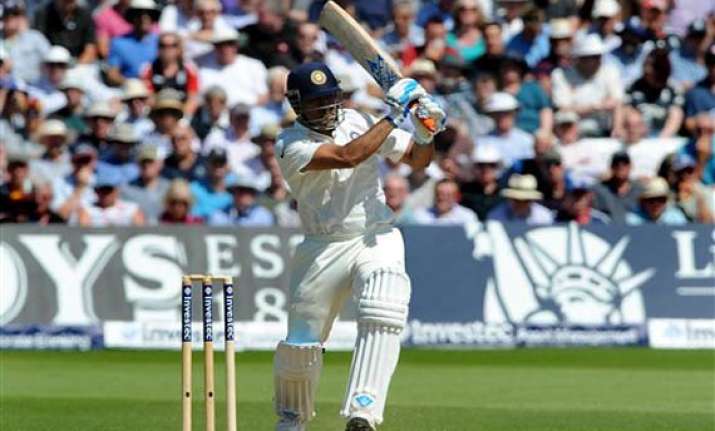 Nottingham: Indian batsmen continued to frustrate the English bowlers as the team reached 342 for five in its first innings at lunch on the second day of the opening cricket Test here today.
Thanks to Murali Vijay's 146-run knock and skipper Mahendra Singh Dhoni's unbeaten 81 (147 balls, seven fours), India were placed comfortably in the game.
Ravindra Jadeja (24 off 18 balls) was giving Dhoni company with the duo sharing an unbeaten 38 runs for the sixth wicket.
The day began with Vijay (122) and Dhoni (50) looking to push the score from the overnight 259/4 and help India attain advantage on a placid wicket in the first innings itself.
But James Anderson (3-95) and Stuart Broad (1-34) had other plans as England's two lead bowlers spent the morning hour in testing every limit of the batsmen's defences.
Broad opened the proceedings and was on the money immediately, bowling five overs for a mere eight runs. He beat Dhoni's bat so many times that it was almost a surprise that the Indian skipper was still at the crease at lunch.
The Indian skipper was also helped by keeper Matt Prior who dropped a simple catch in only the third over of the day, when the batsman was on 52 and to his credit, he didn't offer another straight opportunity to affect his dismissal.