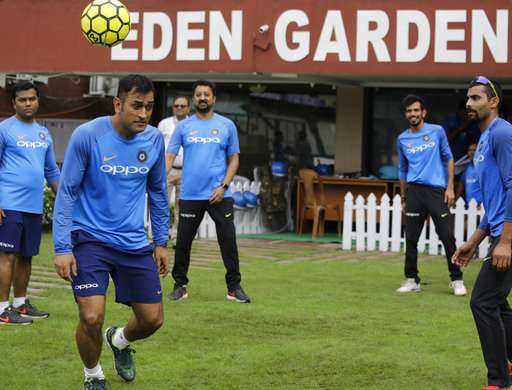 India's outdoor practice session had to be cancelled for the second successive day before rain made way for bright sunshine over the Eden Gardens, raising hopes of a full game in the second ODI against Australia. In fact, Australia too had to cancel its outdoor training session even though the covers were removed for the first time in 48 hours. 
Just after India left for team hotel, sun shone over the iconic stadium as Cricket Association of Bengal president Sourav Ganguly was seen inspecting the pitch and ground. 
"It looks good," said Ganguly.  The local meteorological department also gave a positive  Weather forecast for the match. 
"There is no more affect of low pressure. There are some chances of rain tomorrow but the weather will clear up towards the afternoon and there will be sunshine," said IMD director Ganesh Das as media reports suggest. 
A similar pattern was observed today as there was a brief spell of rain in the morning, forcing the Australians to train indoors for the second successive day, while it remained hazy in the afternoon when Virat Kohli and Co checked in, and towards the evening the sun was out in full glow. 
India's MS Dhoni with a football.

Virat Kohli and Co during the pracice session.

The Indian team players during a practice session.
When it was raining, India made use of the dressing room lawn to play some football.
Earlier, Kohli along with chief coach Ravi Shastri and bowling coach Bharat Arun took a close look a the pitch, which had a bit of grass and some visible bowling marks as BCCI allowing a Bengal pre-season practice match exactly a week ago. 
India lead the five-match ODI series 1-0 after a 26-run win over Australia in a rain-curtailed match in Chennai.
(With PTI Inputs).