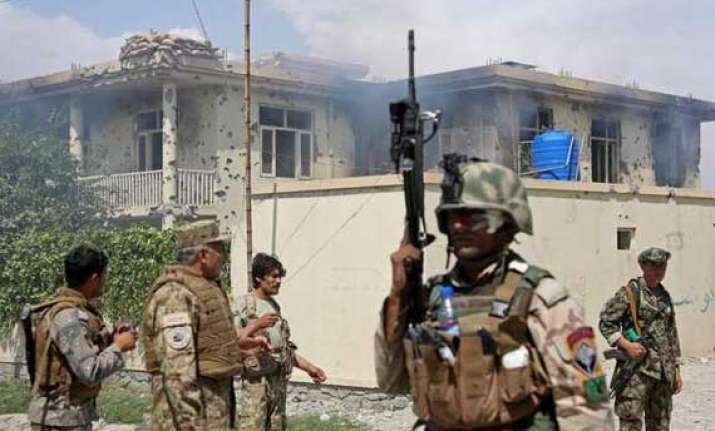 Kabul: The Taliban unleashed a wave of attacks today across Afghanistan to mark the start of their spring offensive, storming a government building in the east where attackers killed two police guards and five civilians, and striking a police checkpoint to the south and killing nine policemen.
Also today, rockets hit inside the grounds of the Kabul international airport but caused no damage. Rockets also struck the NATO base at Bagram, just north of the Afghan capital, causing minor damage, the alliance said.
This year's Taliban spring offensive comes at a sensitive time, against the backdrop of a key presidential election. Militants have also stepped up terror attacks to sow insecurity and weaken the government as international forces prepare to withdraw from the country by the end of this year.
Fewer than 30,000 US troops remain on the ground in Afghanistan, the lowest number since the 2001 invasion. Last summer, Afghan security forces took full responsibility for the country's defense, making this Taliban spring offensive an important gauge of how well they will face insurgent attacks once international forces are gone.
Today's attack on the provincial justice ministry building in the city of Jalalabad began around 9 am, just as employees were arriving for work, said Nangarhar provincial government spokesman Ahmad Zia Abdulzai.
According to the spokesman and the provincial police chief, three attackers shot and killed the two police guards, broke into the ministry and took over the building. One of the attackers died when he detonated his explosives' vest inside the ministry, while the other two were killed by police, said Gen. Fazel Ahmad Sherzad, Nangarhar's police chief.
Security forces retook the building after a shootout with the Taliban, four and a half hours later. Inside, five civilians were found dead and seven others were wounded, Sherzad said. It was not immediately clear if the victims inside were all government employees and if more people had been in the building when it came under attack.