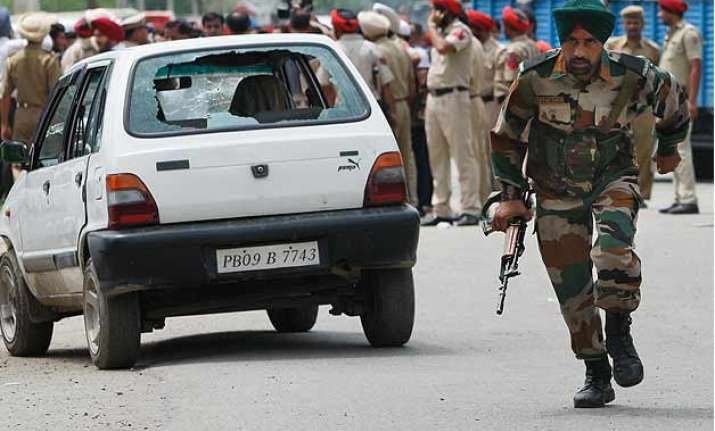 Gurdaspur: Gunmen in Army uniform today opened fire at a Jammu-bound passenger bus and a police station in Dinanagar of Punjab's Gurdaspur district.
Eyewitnesses said that the terrorists, numbering 4-5, came in a white Maruti car and were in army uniforms.
Live Updates
* The militants are suspected to be a part of LeT or Jaish-e-Mohammed: MHA Sources on Gurdaspur attack.
 * 3 civilians, 5 police personnel, and 3 militants killed in Gurdaspur Attack: MHA.
* Operation to flush out terrorists over: Punjab Police.
 * Those dead in Dina Nagar terror strike are four policemen, including an SP rank officer and three civilians: Police.
 * Security forces have launched "final assault": top Punjab police official.
*  Encounter over with all militants killed. Army begins search operation
* Three terrorists killed in gunbattle with security forces in Dina Nagar in Gurdaspur: Police.
 *Home Minister  Rajnath  Singh called  a meeting to assess the situation at 6.00 pm.Defense minister Manohar Parrikar, all security agencies chiefs and NSA will also attend the meet.
*Terrorists from Lashkar-e-Taiba or Jaish-e-Mohammad, Punjab counter-intelligence : IG.
* Terming the supsected terror attack in Gurdaspur as a "very serious issue", Union Minister Rajiv Pratap Rudy today said no details can be given at this stage as the operation against perpetrators of the attack is still on.
* The Jammu and Kashmir police today rushed bullet proof vehicles to Punjab for its use following the terror attack in Gurdaspur district.
* I will give statement in Parliament tomorrow on Gurdaspur terror incident: Home Minister
* HM Rajnath Singh will make a statement in the House, once the encounter is over: Union Minister Venkaiah Naidu speaking in Lok Sabha
* Punjab government is soft towards militant activities, Central government & Punjab government need to be alert & stronger: Ghulam Nabi Azad
* Situation is under control, Army is around. Will give you an update when we have one: Rakesh Kaushik (SSP, Pathankot)
* Very necessary for Prime Minister to be in touch with CM of Punjab, will help in better coordination of anti-terror efforts: Omar Abdullah
* On issues of terrorism the entire nation should speak in one voice: Venkaiah Naidu
* Once the encounter is over, the government will make a statement in the House: Venkaiah Naidu
* They (militants) fire after every 5 minutes: Injured security personnel
* Injured security personnel says that there is a woman terrorist among the other attackers
* One more terrorist killed: Police source
* Punjab Police SP (detective) Baljeet Singh killed in Gurdaspur terror attack
* Where do these militants come from? The border, yes? If there was input why wasnt the border shielded?: Parkash Singh Badal
* Because it is a national problem, it needs to be tackled with national policies: Parkash Singh Badal
* We will sit together, hold a meeting with everyone after we take stock of the situation: Parkash Singh Badal
* This is very sad. Militancy is a national problem, not state problem: Parkash Singh Badal
* What input? Terrorists didn't come from Punjab, came from border. Their (MHA) job to seal the border: Parkash Singh Badal
* Militancy a national problem, not a state problem. National policy needed to tackle terrorism: Punjab CM Parkash Singh Badal
* Alert sounded in Parliament premises, security forces at spot
* High alert sounded in Maharashtra after terror attack in Gurudaspur
* Special Forces team has also reached the location which has been cordoned off
* Samba (J&K) on high alert after Gurdaspur terror attack
* ISI trying to restor Sikh militancy in Punjab: RK Singh
* Intelligence agencies can only warn abt border activity, they can't tell abt exact spot & location: Naresh Gujral, SAD on Gurdaspur incident
* All parties must come together to save Punjab, if Punjab disintegrates now it will be hard to revive it: MS Bitta on Gurdaspur incident
* Terrorists crossed into India from Pakistan -- Hiranagar border of Jammu and came to Gurudaspur last night. It's around 1.5 hrs distance from hiranagar
* Intelligence branches Issued alerts to all districts,increased vigilance on inter-state border: Manoj Bhatt, DGP R'than on Gurdaspur incident
* Operation is still on...not the time to comment: LK Advani
* Finance Minister Arun Jaitley to brief media in Parliament shortly
* Government has prepared statement on Gurdaspur terror attack, to be delivered in Parliament: Sources
* This is a zone which has been vulnerable for quite some time. There have been reports of Pak infiltration earlier also: Jitendra Singh
* Home Ministry meeting ends. NSA to brief PM Modi
* Vigil stepped up at India-Pakistan border after Gurdaspur terror attack: Rajnath Singh
* 4-5 people attacked police station in morning, we have engaged them in an encounter: Ishwar Chander
* We are on the job, there is no hostage situation, it is a Punjab police commando op: Ishwar Sharma IG Border zone
* Militants are firing indiscriminately, says policeman
* Operation is still on, I will not make any comments. We will be successful in operation: Rajnath Singh
* Home Minister Rajnath Singh to make statement in Parliament
* Punjab attack eerily similar to Jammu attacks: Omar Abdullah
* Home Ministry seeks detailed report security agencies
* NSG team reaches Gurdaspur
* Encounter is still underway. Terrorists are holed up in an abandoned house: Kiren Rijiju
* 6 civilians, 3 police home guards killed
* No hostage situation. Reports of a hostage situation in Dinanagar are wrong: Army
* Death toll rises to 6
* Rajnath Singh orders BSF to immediately move forces to Gurudaspur
* High level meeting in Home Ministry. NSA Ajit Doval monitoring situation
* Army begins operation
* MHA is monitoring the situation. I am confident that the situation will be soon brought in control: Rajnath Singh
* Rajnath Singh speaks to Home Secretary and NSA regarding the situation in Gurudaspur
* 5 live bombs found near Pathankot-Amritsar railway track
* Home Minister Rajnath Singh speaks to Punjab CM Prakash Singh Badal
* Army unit reaches the attack site, Punjab SWAT rushes to spot, NSG team also moved
* The incident has left 3 persons including a police official dead
* Car number - PB 09 B 7743
* All were carrying automatic weapons, an eyewitness said
* Police reinforcements were rushed to the spot and a counter-offensive by security forces was initiated
The exchange of fire between the police and gunmen is still underway.
IB had earlier sounded alert regarding attacks on gurudwara and police stations in the state aiming revival of militancy.