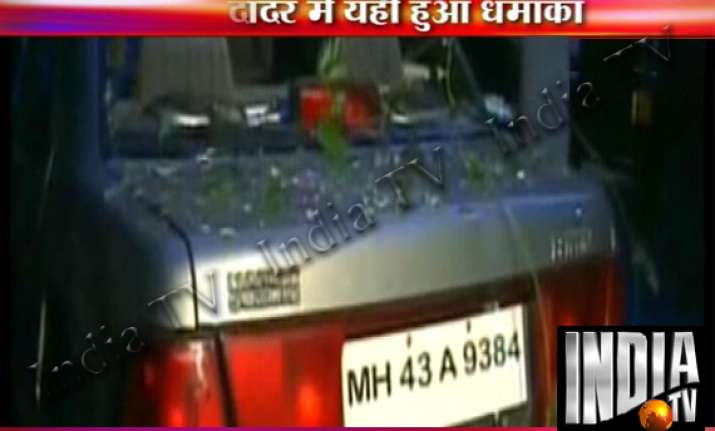 Mumbai, Jul 13: Terror struck Mumbai when three near simultaneous blasts ripped through crowded areas in the this evening killing at least 18 people and injuring 131 in a grim reminder of the deadly 2008 Mumbai attack.


Maharashtra Deputy Chief Minister Ajit Pawar said 18 people had died in the back-to-back explosions which struck in a span of 14 minutes, apparently aimed at causing maximum casualties during the peak hour.

Union Home Minister P Chidamabaram said the quick succession of the blasts showed that it was a "coordinated attack by terrorists."




All the explosions were triggered by Improvised Explosive Devices(IED), a Home Ministry official said, adding 131 were injured.

The first explosion rocked Zaveri Bazar, a popular jewellery market, at 6.50 pm and a minute later another blast shook the busy business area Opera House. A third blast ripped through crowded Dadar area in Central Mumbai at 7.04 pm.

The blast sites were splattered with blood as some bodies lay strewn around while cars and motorcyles were charred in the impact of the explosions in the country's financial capital.

The terror strike revived memories of the Mumbai attack that left 166 dead.

No group claimed responsibility but Mumbai police suspects the hand of Indian Mujahideen (IM). Chief Minister Prithviraj Chavan declined to speculate on who could be behind the attack.




"It is a pre-meditated, cold-blooded murder of innocents," Chavan said asserting "we will get to the bottom of this." The chief minister said police have found "some clues" which were being followed up. They also have video clippings that can help in the investigations.

Mumbai police commissioner Arup Patnaik said the blasts at Opera House and Zaveri Bazaar were of a higher intensity than the one at Dadar.

"It is a terror act. Quite obvious that some terror element is involved in the attack. Zaveri Bazaar blast exploded with use of IED kept in an abandoned umbrella," Patnaik said.

Giving the break-up of the toll, the Home Ministry said Saifee hospital reported 5 deaths, J J Hospital (1), Bombay Hospital (1), Harikishan Das hospital (5), G T Hospital (4), St George Hospital (1) and others (4). PTI


Late on Wednesday night, the following casualties of serial blasts were reported:

Hari Kishandas Hospital: 32 injured and 3 dead GT hospital: 18 injured and 3 dead St George hospital: 14 injured and 3 dead JJ hospital: 9 injured and 1 dead KEM hospital: 4 injured Suruja Hospital: 2 injured Nair Hospital: 1 injured and 1 dead Saifee hospital: 40 injured and 20 dead Total: 80 injured and 29 dead (official data).

Injured admitted in hospitals Name and Contact Numbers:

St. George - 022-22620242/ 5933533

Harkisandas Hospital - 022-23855555

GT Hospital - 022-2630553

KEM Hospital - 022-24107000 / 24136051

JJ Hospital - 022-23735555 / 23739400

Nair Hospital - 022-23081490 / 2602336

Bombay Hospital - 022-22067676 / 22068686