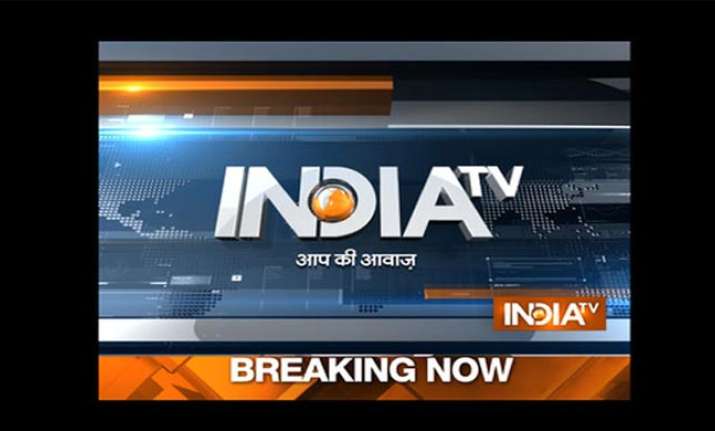 National News
Three jawans martyred during gunbattle with ULFA militants in Tinsukia, Rajnath speaks to Assam CM
Three soldiers were martyred and four others were injured during a gunbattle with suspected ULFA militants in Pengri area of Tinsukia district of Assam today.
Caller warns Delhi Police of plot to kill PM Narendra Modi: Report
A person called up Delhi Police on Wednesday to warn about an alleged plot to kill Prime Minister Narendra Modi.
I-T department starts cracking whip on people depositing cash above Rs 2.5 lakh, sends notice
The income tax (I-T) department has started cracking the whip on people depositing large amount of cash following PM Narendra Modi's announcement of removing old Rs 1,000 and Rs 500 currency denominations from legal tender.
NIA conducts raids at Zakir Naik's Islamic Research Foundation premises
The National Investigation Agency (NIA) on Saturday carried out raids at 10 premises of controversial preacher Zakir Naik's Islamic Research Foundation (IRF) in Mumbai for allegedly involving in unlawful activities.
Tamil Nadu CM Jayalalithaa to be shifted to a special room at Apollo: Report
Tamil Nadu Chief Minister J Jayalalithaa, who was admitted to Apollo Hospitals in Chennai for fever and dehydration on September 22, will be shifted to a special room from the Intensive Critical Care (ICU) today.
International News
India opposes UN resolution for moratorium on death penalty
India has vehemently opposed a UN resolution that calls for enforcing a moratorium on the death penalty.
China needs to mend bridges with India or forget CPEC dream: Report
Unless China mends bridges with India, it will find it difficult to realise its China-Pakistan Economic Corridor (CPEC) dreams, according to a media report.
'Another terrorist attack in US could lead to violent reaction against Pakistan'
A host of former US and Pakistani officials have warned another terrorist attack in America could lead to a violent reaction against Pakistan.
Business News
Nokia all set to re-enter into smartphone business in 2017
Nokia is all set to make a comeback in the smartphone industry in 2017, a slide from Nokia's Capital Markets Day 2016 has revealed.
Facebook plans its first stock buyback
Facebook is planning to buy back $6 billion in stock from shareholders beginning in the first quarter of 2017, according to a document filed with the Securities and Exchange Commission.
Know why banks spraying perfume, insecticides on notes before disbursing
Several banks in different parts of the country are disbursing Rs 100 notes after spraying perfume and insecticides as they have been receiving soiled notes that were suppose to be dumped after being taken out of circulation years ago.
Entertainment News
Finally! Iulia Vantur opens up on her rumoured break-up with Salman Khan
Bollywood superstar Salman Khan's rumoured girlfriend Iulia Vantur has finally cleared the air about their speculated breakup.
Despite being in Bigg Boss house, Karan Mehra made wife Nisha's birthday special. Here's how
It was Bigg Boss 10 contestant Karan Mehra's wife Nisha Rawal's birthday on Friday and the actress was indeed missing her hubby on the special day.
Box office report: Know how 'Force 2', 'Tum Bin 2' fared on first day
Sequels of two successful movies Force (2011) and Tum Bin (2001) were released yesterday and it was the former that performed better at the box office.
Sports New
Ind vs End, 2nd Test: Kohli's unbeaten 56 gives India 298-run lead on Day 3
Team India today reached 98 for three to take a 298-run lead at the end of the third day's play on Saturday here.
PV Sindhu beats Korea's Sung Ji Hyun to enter China Open final
Indian shuttler and Rio Olympics silver-medallist P V Sindhu today defeated South Korea's Sung Ji Hyun to enter the final of China Open.
Pakistan to send its junior hockey team to India for FIH Junior WC
Pakistan Hockey Federation has finally got clearance from the government to send its national junior team to Lucknow, India for the FIH Junior World Cup next month, a PTI report said.