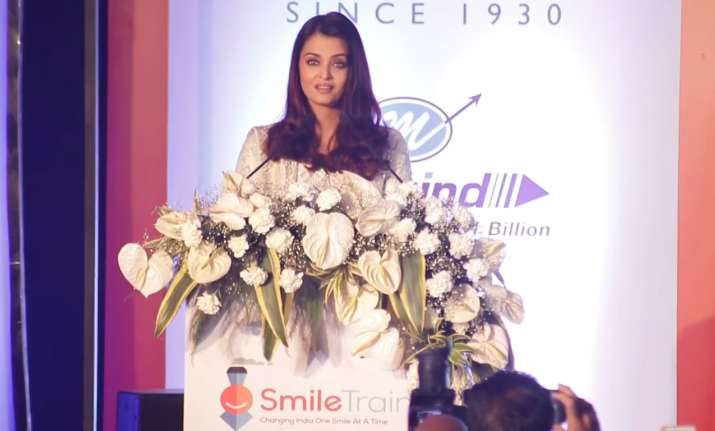 Aishwarya Rai Bachchan is extremely close to her father Krishnaraj Rai. He passed away last year in March, following prolonged illness. In 2017, on Krishnaraj Rai's birthday, the NGO which Aishwarya and her father supported honoured this close bond by announcing the day as the Day of Smiles. Aishwarya Rai Bachchan and daughter Aradhya celebrated the day as spending time with kids.
The NGO works to enable cleft surgeries for kids in the last few years. On Tuesday, the actress attended the event hosted by the NGO. While speaking, the actress got emotional multiple times and took pauses to clear the lump in her throat.
She said, "Last year, Smile Train very generously offered to honour my father, late Mr Krishnaraj Rai, by announcing his birthday, 20th of November, as the 'day of smiles.' Thank you because this meant so much to us. My father worked with me with Smile Train. I like to always do something more effective and concrete on every personal occasion of our family, that's what my parents always taught me."
"My daughter's birthday is on the 16th and my father's on 20th, so it was the year before, his last, that we celebrated together. This year was particularly emotional for us as a family and with daddy, it had to be about smiles. Celebrating everything he has taught me, everything he has passed through me to Aaradhya, it had to be about bringing a smile to people's lives. Thank you that we have decided that 20th November will be the day of smiles."
Aishwarya Rai Bachchan's charity Aishwarya Rai Foundation collaborated with the NGO which has enabled 500,000 cleft surgeries so far for kids during the course of 18 years. Her charity has been associated with the cause for around 10 years. She thanked the doctors, nurses, donors and everyone who contributed towards the success of the mission.
Aishwarya Rai Bachchan also spoke on her family's contribution on the initiative. She said, "My parents and my daughter, albeit very early in her life, has gotten introduced to the work we do together on Simile Train. I'm so thankful to god that I've been able to share in the experience and get them to recognise and get them to participate in such effective work with children."
On the work front, Aishwarya Rai Bachchan will be seen in Fanne Khan with Anil Kapoor, Rajkummar Rao among others.