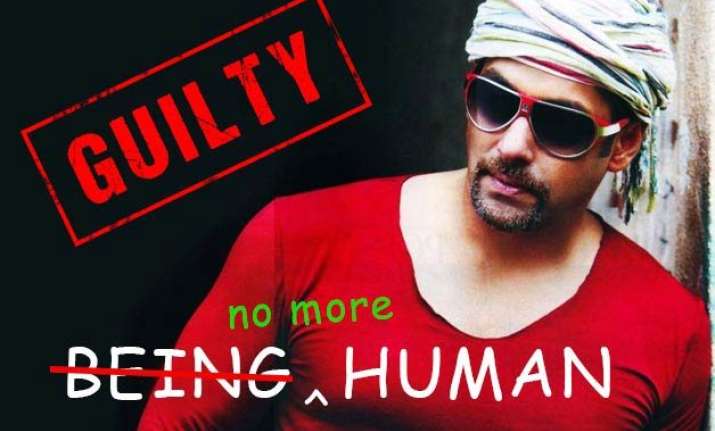 Bollywood superstar Salman Khan has been found guilty and handed a five years imprisonment in the infamous hit-and-run case of 2002, which led to the death of one person and injured four others after the actor's SUV rammed into a bakery shop in suburban Bandra.
The much awaited verdict was handed down by session court judge D W Deshpande today amidst glaring crowd of media persons, lawyers and the court staff.
Earlier, the police geared up the security in and around court premises before Salman's arrival to restrain the actor's fans from entering the court with a view to avoid overcrowding in the court.
Later in the day, the superstar was given interim bail for two days by the Bombay High Court.
Background of the case
Defence vs Prosecution
The prosecution and defence concluded arguments on April 21 in the trial which was conducted afresh after a Magistrate added the charge of culpable homicide not amounting to murder and referred the case to the session's court.
While prosecution pleaded that there were three persons in the car   Salman, his police bodyguard Ravindra Patil and singer friend Kamal Khan, the actor argued that there was a fourth person and he was Ashok Singh.
Khan's lawyer Srikant Shivade argued that post-mortem report of the deceased suggested that he had received crushing injuries and it had been caused when a crane called by police could not lift the heavy SUV in one go and dropped it on the victims.
The defence lawyer argued that the mishap had occurred as the car crashed into a shop after its left tyre had burst. He also alleged that road was being repaired near the shop where the mishap occurred and stones were scattered at that place.
According to the prosecution, Khan's rash driving claimed the life of Nurullah Mehboob Sharif and injured Kalim Mohammed Pathan, Munna Malai Khan, Abdullah Rauf Shaikh and Muslim Shaikh.
The defence lawyer also disputed the prosecution's claim that it took 30 minutes for Khan to drive his car from J.W Marriot Hotel to the accident spot at a speed of 90 kms per hour after taking drinks on September 28, 2002.
The lawyer argued that it would not take him 30 minutes because the distance between the two destinations is not much. It would take Khan only ten minutes, he said, adding that the prosecution's case was "false".
The prosecution also alleged that Khan was driving the car without holding a licence. It produced RTO records to show that the actor had procured a licence only in 2004, two years after the mishap.
The actor, however, pleaded that this was not the first licence obtained by him.
Another sessions judge U.B. Hejib in July 2013 had framed charges against Salman under Indian Penal Code Sec. 304(2), of culpable homicide not amounting to murder,
Twist in the tale
Earlier, during a court hearing on March 27, 49 year old actor brought a new twist to the entire tale after he pleaded that he was not driving the car at the time of mishap and that his driver Ashok Singh was behind the wheel. This was also corroborated by Singh who appeared as defence witness.
However, prosecution led by Pradeep Gharat flayed his claim and alleged that Khan was driving after consuming 'Bacardi Rum' in a bar. The actor, on the other hand, argued he was having a glass of water and not alcohol.
Prime Witness Ravindra Patil who died during trial
Ravindra Patil, who passed away during the trial, had also said that Khan was under the influence of liquor when he met with the accident. However, he has not said a word about Khan's claim that his driver Ashok Singh was behind the wheel.
Salman Khan's lawyer argued that the evidence of Ravindra Patil, an eyewitness, should be discarded as he had passed away and was not available for cross examination.
On the other hand, the prosecution argued his evidence should be considered as he had seen Khan driving the car and was a key witness.
Charges
Salman Khan is facing charges under provisions of IPC, Motor Vehicles Act and Bombay Prohibition Act.
He was charged under IPC sections 304 part II (culpable homicide not amounting to murder) which attracts upto 10 years in prison; 279 (rash and negligent driving) which stipulates six months jail; 337 & 338 (causing hurt by act endangering life and causing grievous hurt respectively) with punishment up to two years, and 427 (mischief causing damage to property) with maximum punishment of upto two years.
Under Motor Vehicle Act, the actor was charged with Sections 34 (a), (b) read with 181 (driving vehicle in contravention of rules) and 185 (driving at great speed after consuming alcohol).
Salman Khan was also charged under sections of Bombay Prohibition Act relating to driving under influence of alcohol with maximum six months' jail.
Possible impact on Bollywood
The verdict that came after years of court hearings and legal hold-ups will affect the annual box office turnover especially since 49 year old actor had two big releases this year and considering how his films are known to break box office records.
Salman is the only actor who holds the record of having seven of his films in the much coveted  Rs 100 crore club.
With films like Bajrangi Bhaijaan, Prem rattan Dhan payao, Karan Johar's Shuddhi, YRF's Sultan and Boney Kapoor's No Entry Mein Entry, the actor had more than 200 crore riding on him.