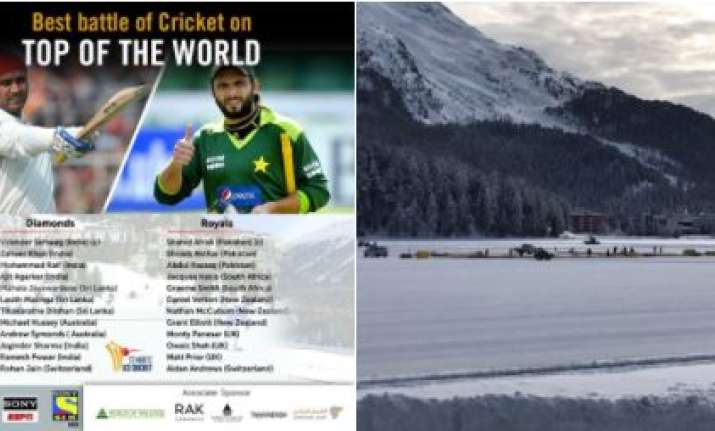 For the first time ever, players will be battling out on ice as one of the most prestigious events in the domestic swiss cricket calendar, Cricket on Ice, is back for its 31st edition, taking place on Lake St Moritz from Thursday 8th to Saturday 10th February 2018.
In an atmosphere of fun and sporting brilliance, the unique Cricket on Ice offers an exciting version of the Twenty20 format with four teams playing off against each other for a splendid trophy. 
Cricket on Ice attracts amateur international male and female players from all over the world, all coming together for a sensational experience in St Moritz. Check out this video:
With the success and excitement of the longstanding Cricket on Ice tournament this year, there is another event taking place the same week, a short distance away on the lake, under the badge of Ice Cricket.  Ice Cricket is a two-game contest and will be welcoming cricket stars such as Matthew Prior, Tillakaratne Dilshan, Abdul Razzaq, Nathan McCullum, Ajit Agarkar, Zaheer Khan and many more big names!
On a related note, many celebrities and legendary cricketers have taken up to Twitter to post their excitement for the exciting game. 
Let's have a look:
Baba re Baba, with so much cold , guaranteed #AbJamegiKulfi .
I will be there, Akhtar bhi hoga, Malinga bhi ,Kallis bhi, Symonds bhi, Mahela bhi, kai dhurandar bhi honge aur unlimited thand and excitement bhi ,Feb 8th & 9th in Switzerland. Dekhiye zaroor! pic.twitter.com/CoklbdzOHF

— Virender Sehwag (@virendersehwag) February 2, 2018
A new place always has an excitement but this is as cool as it gets. Excited to be a part of Cricket on Ice in St. Moritz ,Switzerland . You can catch the live action on Sony Espn 330 pm onwards on Feb 8th and Feb 9th. But hum players ki toh #AbJamegiKulfi pic.twitter.com/fjMjh0wGrM

— Mohammad Kaif (@MohammadKaif) February 2, 2018
Excited to be a part of a new innovation in Cricket. For the first fime ever, I am going to join some of the legends of the game and battle it out by playing Cricket on Ice in St. Moritz ,Switzerland . Don't miss the action on Feb 8th and 9th because #AbJamegiKulfi pic.twitter.com/TeEAispjvl

— Mahela Jayawardena (@MahelaJay) February 2, 2018
Have played cricket on streets, in maidans , on a ground ,but come Feb 8th and 9th, I am going to play Cricket on Ice for the first time ever with some of the biggest stars of the game in St. Moritz, Switzerland. Considering the temperatures #AbJamegiKulfi pic.twitter.com/ndrpafeuZv

— zaheer khan (@ImZaheer) February 2, 2018
You want to watch something rare and special. On Feb 8th and 9th, I will be battling it out , playing Ice Cricket with the best cricketers in the world in Switzerland. But yaar , thand bahut hai #AbJamegiKulfi #shoaibakhtar #Rawalpindiexpress #Cricketonice pic.twitter.com/d9jplpWSPk

— Shoaib Akhtar (@shoaib100mph) February 2, 2018