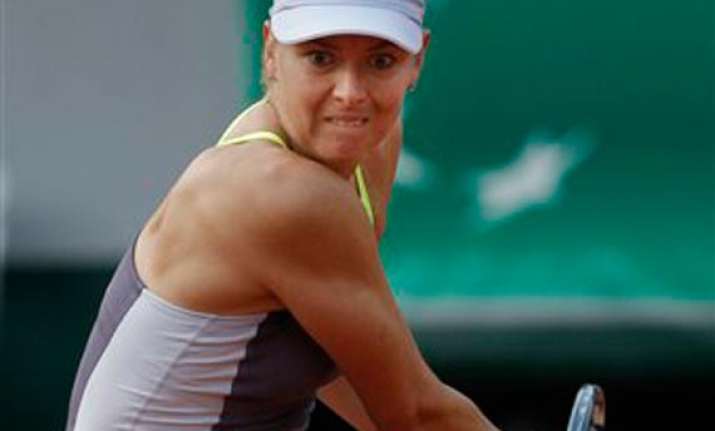 Paris, May 28: Knowing her first match as the French Open's defending champion was scheduled for late in the day, Maria Sharapova decided to treat herself to some down time at a local park.
Nothing like a little introspection before competition.
"I remember myself sitting in the same position last year. ... You think back to those moments, and you go through the changes and the additions and the minuses and all the things you have in your life, and at the end of the day, I'm still doing the same thing," she said. "And I love it just as much, which puts a big smile on my face."
Nearly a decade removed from her first Grand Slam title, Sharapova set out to win what would be major No. 5 with a rather quick and simple 6-2, 6-1 victory Monday over 42nd-ranked Hsieh Su-wei of Taiwan in the first round at Roland Garros.
"You look at the playground in the park, and then you know four hours later, you're going to be on one of the center courts, going to be playing in front of thousands of people," said Sharapova, who did not double-fault or face a break point during her 54-minute match. "That just still gets (me) really excited."
The schedule for Tuesday, when the forecast predicted rain, includes the two champions from the Australian Open in January, No. 1-seeded Novak Djokovic and No. 3 Victoria Azarenka, along with past major titlists Petra Kvitova and Samantha Stosur.
Sharapova completed a career Grand Slam with last year's French Open trophy, adding it to the ones from Wimbledon in 2004, the U.S. Open in 2006, and the Australian Open in 2008. She never got the chance to defend that last one in 2009, because she was sidelined with a right shoulder injury that required surgery in 2010.
There is certainly something special about returning to the site of a championship, as she did Monday.
"It's nice to come back to a place where you feel like you're part of its history," Sharapova said, "where your name will always be (engraved) somewhere on the wall or on the trophy."
Rafael Nadal, an 11-time major champion, also knows that feeling well, of course — especially in Paris, where he has won a record seven titles, including the past three.
His bid to become the only man with eight championships at any Grand Slam tournament got off to a slow start Monday, before he restored order by coming back to beat 59th-ranked Daniel Brands 4-6, 7-6 (4), 6-4, 6-3.
For the better part of two sets, it wasn't all that different from Nadal's previous match at a Slam: Early round, main stadium, unknown opponent taking risky swings and putting everything in. At Wimbledon nearly a year ago, it was 100th-ranked Lukas Rosol who took it to Nadal and beat him in the second round.
"He was trying to hit every ball as hard as he can," said Nadal, who improved to 37-2 this season, with 16 victories in a row. "He made me suffer, I can tell you."
Brands came in with a 0-4 win-loss record at the French Open, and his strategy was right out of Rosol's playbook: Keep points short and aim for the lines.
"That's the way. If you give Nadal time, there's no chance. You have to be aggressive. That's my view," Rosol, who's now ranked 36th, said Monday after winning his first-round match. "If other players play aggressive against him, that's the only way to beat him."
Toni Nadal, who is Rafael's uncle and coach, saw similarities with the last time his nephew played at a Grand Slam.
"Yes, it was a little the same," Toni said. "Against Rosol, in the fifth set, we couldn't do anything."
But when asked whether there's a pattern being established as to the type of foe who can bother Nadal, Toni shrugged that off, replying: "When you play against an opponent who serves really well, who puts in a high percentage of first serves, and who hits balls really fast, it's complicated for everyone — not just for Rafael."
Had the third-seeded Nadal lost the match, it would have been one of the biggest upsets in the sport's history. Even merely losing the first set was significant, though, considering that Nadal began the day having dropped only 14 of the 170 sets he'd contested at the clay-court major tournament.
The victory improved his career record at Roland Garros to 53-1, the only loss coming in the fourth round in 2009 against Robin Soderling, not incidentally a 6-foot-4 free swinger.
In other Day 2 action, French wild-card recipient Gael Monfils surprised No. 5 Tomas Berdych 7-6 (8), 6-4, 6-7 (3), 6-7 (4), 7-5, while Australia's Nick Kyrgios, at 18 the youngest player in the men's draw, made a successful Grand Slam debut by eliminating 34-year-old Radek Stepanek 7-6 (4), 7-6 (8), 7-6 (11). Two U.S. men won to set up a meeting for a spot in the third round: John Isner and Ryan Harrison.
Sharapova's three predecessors as Roland Garros women's champion all won in straight sets: 2011's Li Na, 2010's Francesca Schiavone, and 2009's Svetlana Kuznetsova.
No. 4-seeded Agnieszka Radwanska, last year's runner-up at Wimbledon, kept pace with her younger sister Urszula — producer of a three-set victory over Venus Williams on Sunday — by eliminating Shahar Peer 6-1, 6-1.
Li and Radwanska both play Americans next. Li goes up against Bethanie Mattek-Sands, who got past Lourdes Dominguez Lino of Spain, part of a 6-1 day for U.S. women, including wins by No. 17 Sloane Stephens, No. 29 Varvara Lepchenko, Melanie Oudin, Vania King and Madison Keys.
The older Radwanska will now face Mallory Burdette, a 22-year-old who won her French Open debut Sunday.
Asked what she knew about her second-round opponent, Radwanska smiled.
"To be honest, not much. Nothing at all, actually," Radwanska said. "I might Google her."