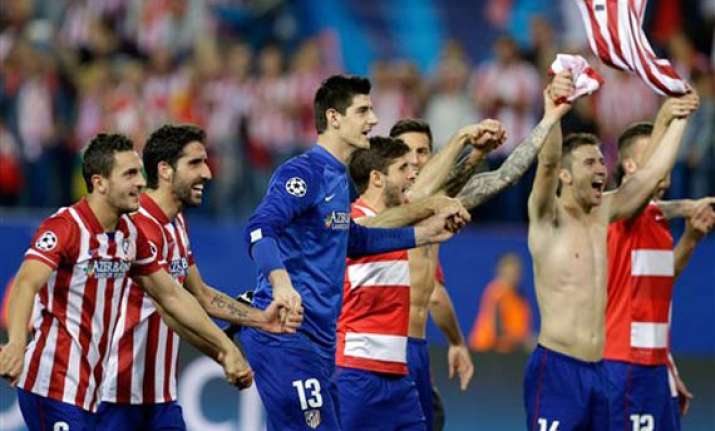 NYON, Switzerland: Real Madrid will play defending champion Bayern Munich in the Champions League semifinals, and Atletico Madrid will face Chelsea.
Madrid and Bayern have combined to win 14 European Cup or Champions League titles. They have also been runner-up a further eight times, yet never met in the final.   
Bayern, a five-time winner, is seeking to become the first team in 24 years to repeat as Europe's top club.   
Atletico will host the first leg against Chelsea, which it routed 4-1 in the UEFA Super Cup two years ago. A potential dispute between Atletico and Chelsea over goalkeeper Thibaut Courtois appeared to have been resolved by UEFA one hour before Friday's draw.   
UEFA issued a blunt warning that Chelsea, which has loaned Courtois to Atletico for the past two seasons, faces sanctions if it tries to enforce a contract clause entitling payment for letting the Belgium international play against the club which signed him in 2011.   
"It follows that any provision in a private contract between clubs which might function in such a way as to influence who a club fields in a match is null, void and unenforceable so far as UEFA is concerned," the European football authority said in a statement. "Any attempt to enforce such a provision would be a clear violation of both the UEFA Champions League and the UEFA Disciplinary Regulations and would therefore be sanctioned accordingly."   
Madrid-Bayern is a repeat of the semifinals two years ago decided by a penalty shootout at the Santiago Bernabeu Stadium after each team won 2-1 at home. Then, Cristiano Ronaldo was among three Madrid players who failed to score from the spot.   
The semifinal lineup includes three coaches who each have two Champions League titles with other clubs: Bayern's Pep Guardiola won with Barcelona in 2009 and `11; Madrid's Carlo Ancelotti with Milan in 2003 and `07; Chelsea's Jose Mourinho with FC Porto in 2004 and Inter Milan `10.   
Mourinho could become the first to coach three different clubs to the European title. Guardiola and Ancelotti aim to become the fifth coach to guide two different clubs to the title.   
The odd man out, Atletico coach Diego Simeone, won a Europa League title with the club in 2012.   
The first legs will be played April 22 and 23, with the return matches on April 29 and 30. The final is scheduled for May 24 at the Stadium of Light in Lisbon.