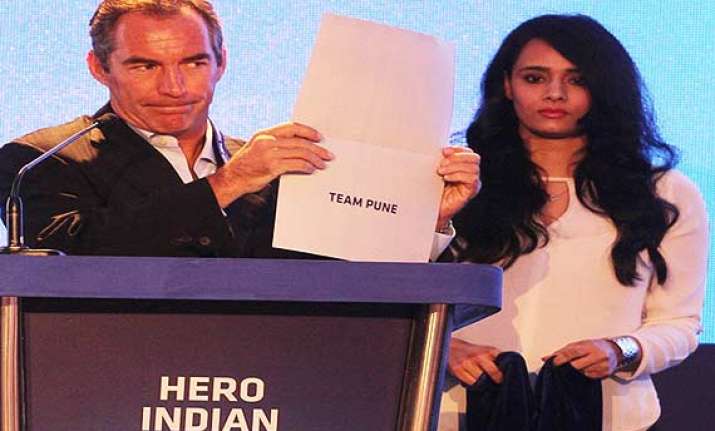 Mumbai:  Football franchises spent around Rs 24 crore in the two-day domestic player draft for the upcoming inaugural Indian Super League, which concluded. "The Rs 24 crore that was spent (by franchises) was a lot of money. We got into this venture three and a half years ago.
Today it was very fulfilling this (draft) has happened. It has been a historic couple of days," said Jefferson Slack, senior vice president (global business development - football) of IMG, who are joint promoters of the
IPL
-style league along with Reliance and broadcasters Star India.     
"This is a big step by IMG. We have invested money with our partners for improving Indian football. This is the first time we have done so. Indians are big football fans on television. The football world and FIFA want India to be successful. That is why this is a unique property for IMG,"
Slack told after the conclusion of the two-day player draft in which 84 domestic footballers were picked by the franchises. The break-up of the amount spent by the six franchises, which took part in the draft is: Athletico de Kolkata - Rs3.91 crore, Delhi Dynamos - Rs 2.81 crore, Kerala Blasters Rs 3.31 crore, Bengaluru Rs 3.04 crore, Mumbai - Rs 3.76 crore and Pune - Rs 3.19 crore.     
The remaining amount was spent by the other two franchises - Goa and North East United FC  who had finalised their domestic players before today's draft and announced them over the last two days.     
Star India president Nitin Kukreja said the exact dates of the tournament, for which the All India Football Federation has left a window open between September 18 and December 7, are still not decided.     
"We are nearly there in terms of finalising. It will be done by next week as we are still in discussion," he stated. Slack said an anti-corruption measure would be put in place and the footballers will be educated about the dangers of unscrupulous bookies approaching them to fix games, as part of ISL's tie-up with the most glamorous and costly football league in the world  English Premier League.
 "We know it's a very big issue in India with cricket. Thebest global practices (to prevent corruption of game) would be included. We know how important it is and will do it with support from EPL with whom we have a tie-up," said Slack.     
Slack also clarified that fitness and not age was the criterion in the choice of marquee players of each franchise when asked why the ISL authorities refused permission for Goa to have former Liverpool star Robbie Fowler to be their icon player.     
"Robbie Folwer was not fit enough to play 14 matches in ISL plus three more if required. It's not a question of age, but of fitness," he explained.     
Former India captain Bhaichung Bhutia, who was part of the draft process, said this was a great learning process for him also. "This is for me a great learning process. It was exciting and the players were also excited. I am a bit unhappy ISL is happening after I have retired. It will give opportunity for
our young as well as experienced players to learn from foreign players and coaches. It will develop them into better players," he said.     
He said though Mumbai and Kerala franchises were impressive during the draft picks and he himself was a supporter of North East and Kolkata, all the teams appeared to be evenly balanced.     
"It will be a very competitive tournament. No team is going to be a favourite. Quite a lot of youngsters have signed up," he said. Slack said that while infrastructure like stadiums is always a challenge, the important thing was to ensure that a good playing surface and good locker rooms are provided to
the players.     
"We know the stadiums are going to be a challenge. We want to ensure that the locker rooms are decent and the surface looks good on TV. We also want the fans to come and enjoy," he said.