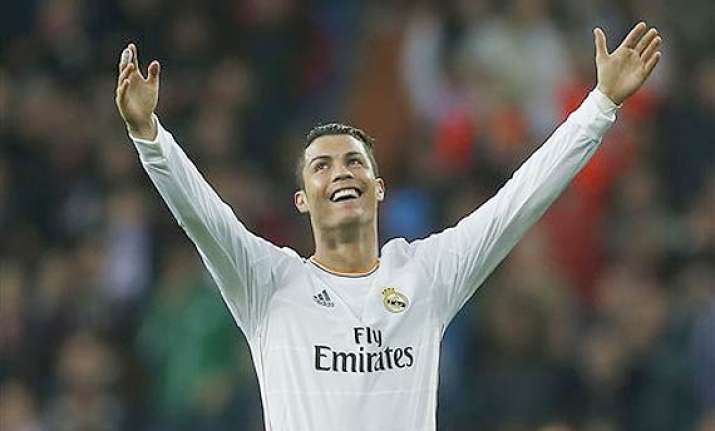 BARCELONA, Spain : Cristiano Ronaldo scored two long-range goals to help Real Madrid rout Osasuna 4-0 on Saturday and stay in the Spanish league title chase while resting several first-choice players for its European clash at Bayern Munich.
With Gareth Bale recovering from the flu and Karim Benzema on the bench, all of Madrid's attack went through Ronaldo on the left flank.   
And the Ballon d'Or winner didn't disappoint by unleashing two similar blasts after cutting inside to put the ball on his right boot and lift his league-leading tally to 30 goals through 35 rounds.   
Madrid provisionally closed to within three points of leader Atletico Madrid before it visits Valencia on Sunday, when Barcelona, one point behind Madrid, hosts Villarreal.   
Madrid coach Carlo Ancelotti also gave valuable rest to defender Pepe and midfielder Xavi Alonso to prepare for its visit to Bayern on Tuesday in the second leg of their Champions League semifinal. Madrid won the first leg 1-0.   
"Everything he tried turned out well for us," Ancelotti said about Ronaldo. "We could rest some players and played a good game, even if it wasn't a very intense one."   
Elsewhere, Getafe's 1-0 win over Malaga condemned last-place Real Betis to relegation even before it fell 1-0 at home to Real Sociedad, while Rayo Vallecano scored three times in the second half for a 3-0 win at 10-man Granada.   
Osasuna lined up to provide Madrid a guard of honor before the match as the hosts paraded their recently won Copa del Rey trophy at the Santiago Bernabeu Stadium.   
Ronaldo then went to work chalking up his 29th league goal in the sixth minute when he unleashed a trademark blast from outside the area that took a slight deflection off defender Damia Abella before falling just inside the far upright.   
He looked to get his teammates involved, and set up scoring chances for Sergio Ramos, Marcelo and Alvaro Morata.   
But it fell to Ronaldo to start the second half as he had the first, with Osasuna's outclassed defense letting him again dribble to near the elbow of the area before he launched a shot into the top corner of the net in the 52nd.   
"Both goals came at the start of each half and that complicated things for us," Osasuna coach Javi Gracia said. "They are both more merit of Ronaldo than my defense's fault. It's true Damia touches the first strike and that gives it an effect, but the second shot is unstoppable."   
Sergio Ramos headed in a third goal in the 60th and Ronaldo went to the bench seconds later to an ovation from the crowd. Dani Carvajal headed home Isco Alarcon's lobbed pass to cap the lopsided victory in the 83rd.   
Osasuna, which lost Raoul Loe and Emiliano Armenteros to injuries, remained three points above the relegation zone along with Getafe.   
Forward Adrian Colunga scored what proved to be the winner seven minutes into the game at Getafe from a pass by Ciprian Marica, who left his side a man down from the 37th for a second yellow card.   
But Malaga couldn't take advantage of the extra man and itself lost a player when Marcos Angeleri was sent off for a second booking in the 76th.   
"This victory is huge," Getafe coach Cosmin Contra said. "You saw team spirit today. We are still alive."   
Sociedad added to Betis' misery by winning thanks to Carlo Vela's 54th-minute penalty kick after Juan Carlos Perez fouled him in the area.   
Sociedad strengthen its hold on sixth place and cemented its Europa League berth for next season.   
Rayo rose into ninth place with only one loss in its last 10 matches. Rayo held Granada in check in the first half before Yacine Brahimi's dismissal for a second yellow card in the 51st turned the match in the visitors' favor.   
All the matches observed a minute of silence before kickoff for Barcelona's former coach, Tito Vilanova, who died on Friday after a battle with cancer.