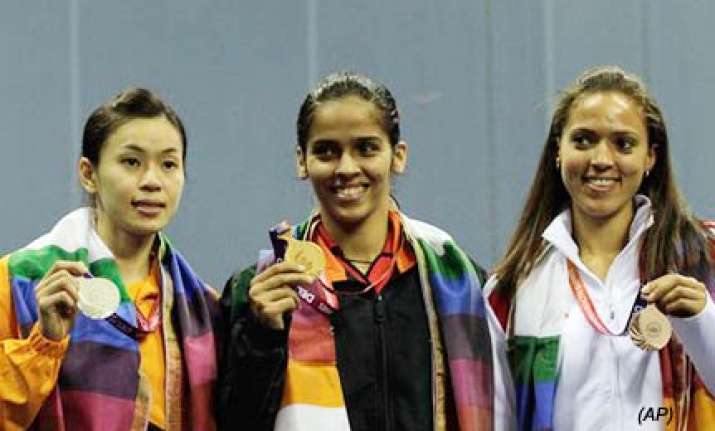 New Delhi, Oct 14 : Watched by Home Minister P Chidambaram and the Prime Minister's wife Gurbachan Kaur, top seed Saina Nehwal became the first women Indian shuttler to win a gold medal in the Commonwealth Games after a grueling three-game victory over Malaysian Mew Choo Wong in the individual badminton event here today. India thus overtook England in the medal tally as the latter has won 37 golds.
World number three Saina bounced back from a game down to battle past Wong 19-21 23-21 21-13 in a nerve-wrecking 70-minute title clash in the women's singles amid the continuous cheering from the vociferous crowd at the Siri Fort Sports Complex.
Aparna Popat won a silver in women's singles at Kuala Lumpur Commonwealth Games in 1998, while Prakash Padukone was the first Indian to win a gold at the 1978 Edmonton edition, followed by Syed Modi, the last shuttler to win a gold in the quadrennial event in 1982 Brisbane Games.
In the first game, Saina found it difficult to judge the shuttle and lost few points at the forecourt and nets to see the game slip out of her hands after she trailed 8-11 at the break.
But the Indian came back strongly in the second. Saina started playing more cross shots and kept pushing the shuttle at the back in the long rallies to come back from a 0-2 deficit to lead 14-10.
But Wong narrowed the gap and wrested the lead at 21-10 before the Indian closed the game with two more points to roar back into the contest.
In the decider, Saina employed a similar strategy and kept her rival away from the nets and used her deceptive drops and tosses to lead 11-7. She consolidated on her lead as Wong's game crumbled.
The Malaysian kept hitting the shuttle out of the court and hit the nets in the final point as Saina burst into tears and run into her mentor Pullela Gopichand's arms.
After winning the gold, Saina told reporters it was a proud moment for her to have won the gold for India on Indian soil.  "Aaj Bhagwan ne meri madad kar di" (God came to my help today), she said,.  
The ace shuttler said she was playing under  too much pressure. "I am happy I have kept my word (of winning the gold)", she added. PTI