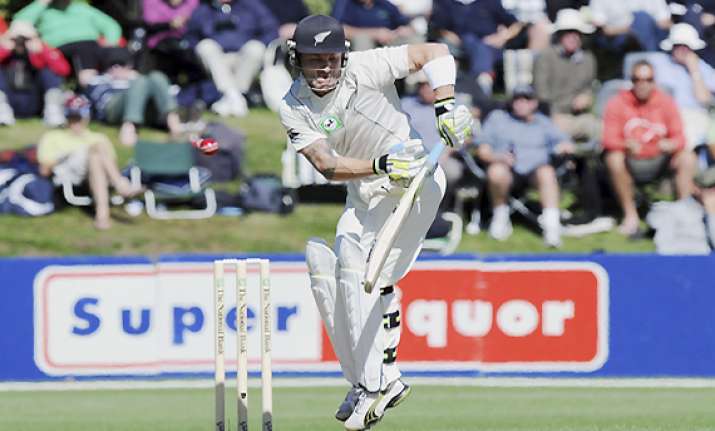 New Zealand, Mar 10: Brendon McCullum made a defiant half century in an unbroken 82-run partnership with Ross Taylor to lead New Zealand to 137-2 at stumps on the fourth day of the first cricket test Saturday.

Jacques Rudolph earlier made an unbeaten 105 to become the third century-maker in South Africa's second innings before it declared at 435-5 midway through the second session, leaving New Zealand 401 to win with a day and a half remaining.

New Zealand stumbled to 55-2 with the loss of openers Martin Guptill (6) and Rob Nicol (19), but McCullum (58 not out) and Taylor (48 not out) stuck together for 98 minutes before stumps, hastened by bad light, with the hosts still trailing by 263 runs.

"It's a good start, still a lot of work to do tomorrow but it's a really good start," New Zealand assistant coach Trent Woodhill said. "We fought hard all day today. Tomorrow we need 264 off about 100 overs, I reckon, so it's a good day's play.

"We feel really confident and hopefully this partnership continues tomorrow morning and we can get another one started straight after that."

Earlier Jacques Kallis, who had resumed at 106 not out with South Africa 268 for three and already leading by 233, added only seven runs to his total before he was out for 113 in the ninth over of the day.

Rudolph, who was 13 not out at the resumption and the subordinate partner in a 36-run stand with Kallis, then took charge of the innings and allowed captain Graeme Smith to make an assertive declaration with 45 overs still to bowl before stumps.

The left-handed Rudolph built on the foundation laid by Kallis and Smith (115) in their 200-run partnership on the second day which all but played New Zealand out of the match. That dominating stand made the partnership between McCullum and Taylor an effort to save the match more than win it.

Rudolph put on 72 for the fifth wicket with A.B. de Villiers (29), then 82 in an unbroken stand with Mark Boucher who was 34 not out when the declaration was made. He reached his half century in measured fashion, in 150 minutes from 106 balls, in steering South Africa to a 324-run lead by lunch, when he was 59 not out.

He accelerated in the second session to add his second 50 in 92 minutes from 71 balls. In total, his sixth century in tests came in 242 minutes from 177 balls and included 15 fours and one six.

South Africa was 294 ahead when he reached the milestone and it batted on for a few more minutes, to pierce the psychological barrier of a 400-run lead, before declaring its innings and sending New Zealand in to bat.

Vernon Philander then bowled a typically explosive opening spell to put the New Zealand openers, Guptill and Nicol, under extreme pressure. He mixed accurate short-pitched bowling with fuller deliveries that brought lbws or the slips into play.

Philander first forced the batsmen back onto the creaseline with his short deliveries then drew them tentatively forward and either took the pad or beat the outside edge of the bat.

The formula finally produced the wicket of Guptill in the eighth over when the New Zealander tentatively followed a delivery outside offstump and edged the ball to de Villiers at second slip.

Nicol took several deliveries on the body as he sought to establish himself in his debut test after making only 6 in New Zealand's first innings. He ground away for 71 minutes before he fell to the worst ball of the match, a hip-high full toss from legspinner Imran Tahir which he forced to Smith at mid-on.

McCullum reached his half century in 108 minutes, from 65 balls and when New Zealand was only 103-2, having provided half of its total.

Taylor was just short of his half century, an improvement on his first innings of 44, when bad light stopped play nine minutes before stumps.

Rain threatens the start of the final day on Sunday. Showers are expected overnight and could at least delay the start of play if not persist through the morning.

"The pitch is still pretty flat and with the heavy roller tomorrow morning, it should still play well for most of the day," Woodhill said.