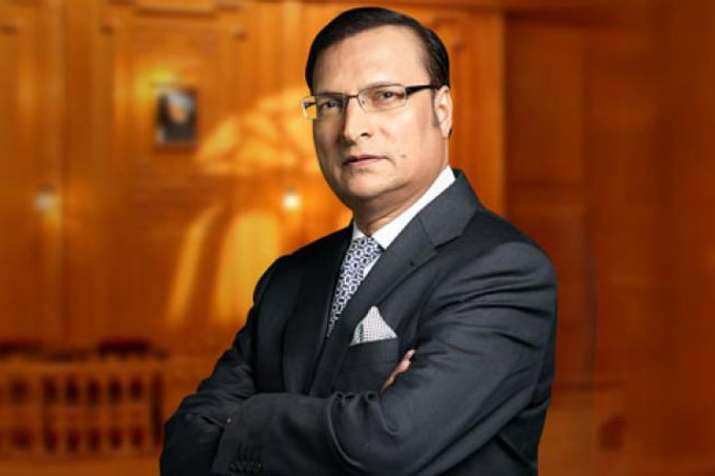 IndiaTV Chairman and Editor-in-Chief Rajat Sharma, who will be contesting for the post of Delhi and District Cricket Association (DDCA) President, has promised to transform the embattled state association into a professional, transparent and corruption-free body. The DDCA elections are scheduled to be held on June 30.
Mr. Sharma, who has been a familiar face on TV for over two decades and was awarded the prestigious Padma Bhushan by the Government of India in 2015 in recognition of his service in the field of literature and education, said he has no vested interest in becoming the DDCA President and that he wants to contribute to the society by cleaning the state body of corruption and making it efficient.
"Many people are asking me that why I decided to fight for the post of DDCA President. I tell them that my profession has given me a lot... honour, love and money. Now I don't want anything now and rather I want to give it back to the society. And I want to start this with my passion which is the game of cricket. I feel that DDCA has been dragged in a lot of controversies and that it needs to be cleaned, made transparent and efficient. This will be my contribution to the society," Mr. Sharma said. (Also Read: Ravi Shastri supports Rajat Sharma ahead of DDCA elections, says 'he is the top man for the top post')
"I don't have any vested interest of coming to DDCA. My one and only interest is to make the DDCA transparent, corruption free in three years and to make such a system that after three years even if I am not there in the DDCA, whoever sits on this position will not be able to corrupt this system and use it for personal benefits," he added.
Sharing his vision for the DDCA members, Mr. Sharma, who is current President of News Broadcasters Association (NBA), said: "The members feel that when they enter DDCA ground or the club or the facilities, they don't feel the warmth. They feel alienated and isolated. Some members prefer to go to the golf club while some go to the Gymkhana. But they don't feel honoured while coming to the DDCA. I want to return them that pride. I want that when the members come to DDCA ground or the club, they should feel that they can come there with families, with friends. I want DDCA to get a clean atmosphere."
He also said that providing better facilities to the players and improving the selection process will be one of his top priorities.
"The players from Delhi have given a lot to Indian cricket. Delhi has given Virat Kohli, Gautam Gambhir, Virender Sehwag, Ashish Nehra. The state has given some world-class players, and even Rishabh Pant from a newer generation. So, players have done their job and now it's our duty to provide great facilities to the players. Our job is to provide the cricketers with better gym, better coaches and an atmosphere where their game can be fine-tuned. (Also Read: Virender Sehwag, Gautam Gambhir, Aakash Chopra and Harbhajan Singh root for Rajat Sharma as DDCA President)
"I feel the biggest pain when I hear that 'our son has done all the hard work but when it comes to selection, we need somebody's reference'. This has to stop. No player should need somebody's reference. Selection should be on merit and nobody should interfere on this. This will be my agenda," he said.
Mr. Sharma said his vision is to make DDCA a professional organisation with no scope for corruption.
"I have a vision to run DDCA as a professional organisation. It should have a professional CA, a CFO, and professional coaches. The decisions related to cricket should be made by cricketers and the professional decisions should be done by the President and the team. This is very necessary and there should be a process in place where nobody gets a chance to even think of corruption. Everything should be transparent and computerised," he said.
Mr. Sharma's team consists of Rakesh Bansal who will fight for the post of Vice President, Vinod Tihara (Secretary), Om Prakash Sharma (Treasurer) and Rajan Manchanda (Joint Secretary).
Mr. Sharma's candidature is supported by present and former cricket greats such as Virender Sehwag, Gautam Gambhir, Aakash Chopra and Harbhajan Singh. Recently, he also received support of current Team India coach Ravi Shastri.
"I am overwhelmed to see cricketers like Gautam Gambhir, Virender Sehwag, Harbhajan Singh and Aakash Chopra supporting me. And all of them said that they believe in my administrative abilities. There is no comparison to Sehwag's game, there's no comparison to Gambhir's seriousness and commitment. Harbhajan Singh, Aakash Chopra or Ravi Shastri as a coach, they have done a great work. They all say that they can take decisions related to cricket but they can't run the administration. And it is due to their suggestions that I am here. The experts of the game told me that I can handle the administration and that I should give it back to the society and this is why I took the decision," Mr. Sharma said.
In his message for the DDCA members, Mr. Sharma said he will work towards the betterment of the state association and will make it an organisation which the members can be proud of.
"I want to tell the members that we want to give a world-class stadium to Delhi where there will be top-class facilities. Members should be able to get a world-class experience when they come to watch the game. The seating arrangements should be better. Lot of people complain that they only get one ticket and are not able to bring their families to the ground. So, we want that members should get at least two tickets. Members should get clean drinking water at the ground. The club facilities over there should improve... there's a long list which I have made. I have made this list after hearing from the old members, who have been the office-bearers," he said.
"I have made a document after hearing to their problems and have plans to provide better facilities to them. I promise the DDCA members that I have selfless intentions of coming to DDCA. Neither do I have an academy from where I am earning money nor do I have a son who wants to play cricket. This is my commitment and my only purpose is to return the honour and pride of the DDCA members so that whenever they come to Feroz Shah Kotla Ground, they should feel that they are a part of an organisation which they can be proud of," he added. (READ THIS ARTICLE IN HINDI)