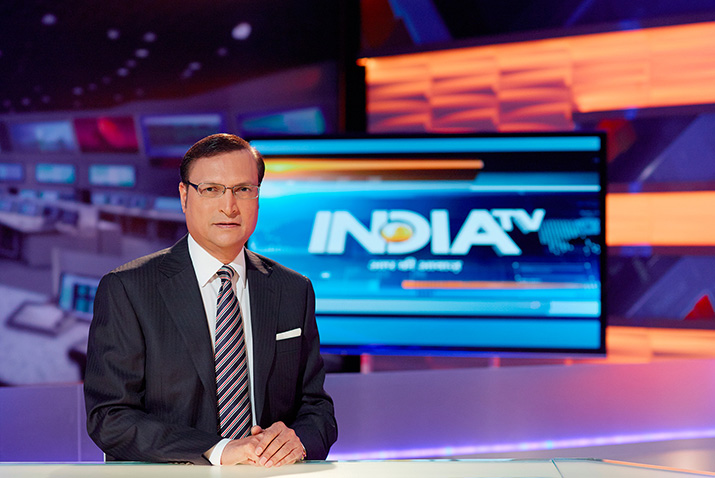 India batsman Gautam Gambhir and his former opening partner Virender Sehwag have expressed their support to IndiaTV Chairman and Editor-in-Chief Rajat Sharma, who is contesting for the post of the Delhi & District Cricket Association (DDCA) President. The DDCA elections will be held on June 30.
Sehwag and Gambhir, who have played as openers for India and the Delhi Ranji team, supported Mr. Sharma's bid for President's post and appealed the DDCA members to vote for him in the upcoming elections in order to secure a better future for Delhi cricketers.
"I feel Rajat Sharma ji is the best candidate in all the three groups. He has a clean image and he is a great administrator. I am sure he will do a very good job because of the kind of image and experience he has. I am sure he is someone who should take this DDCA forward and he is the right candidate. I am sure people will come forward and support him," said Gambhir, who has played 242 internationals for India, scoring over 10,000 runs in all three formats.
Gambhir's long-time opening partner and aggressive batsman Sehwag, meanwhile, said Mr. Sharma is the best person to lead DDCA and will bring fresh changes to the state body.
"DDCA elections are coming and I feel Rajat Sharma ji is the best candidate for the post of President because of the way he has led IndiaTV to success. He is a strong administrator. I feel he is very strong candidate. So, I am supporting him. He will bring fresh changes to DDCA for the betterment of the cricket body," said Sehwag, who has played 374 international matches for India, amassing over 17,000 runs across all formats.
Meanwhile, veteran India off-spinner Harbhajan Singh also wished Mr. Sharma ahead of the elections.
"Hi Rajat ji, I would just like to wish you all the very best for your upcoming DDCA elections," Harbhajan Singh said.
Another former India cricketer throwing his weight behind Mr. Sharma's candidature is Aakash Chopra.
Chopra, who has played as an opener for Delhi and Indian cricket team, said he hopes Mr. Sharma will win and take Delhi cricket forward.
"The success of Delhi cricket lies in its administration. I feel if Delhi cricket is rightly managed and administered then nobody can stop Delhi cricket from going forward. Mr. Rajat Sharma is fighting for the post of the President and I am wishing him all the very best. Hope he wins and takes Delhi cricket forward," Chopra said.
Mr. Sharma's team consists of Rakesh Bansal who will fight for the post of Vice President, Vinod Tihara (Secretary), Om Prakash Sharma(Treasurer) and Rajan Manchanda (Joint Secretary).
Meanwhile, former India cricketers Yashpal Sharma and Chetan Sharma have also come out in support of Mr. Rajat Sharma.
"You all know that the DDCA elections are being held on June 30 and Shri Rajat Sharma has applied for the post of DDCA President. He is a Padma Bhushan awardee and has always been passionate to help the cricketers. Being a former international player, I would request all the members to vote in favour of Shri Rajat Sharma in order to secure a golden future for DDCA and the players of Delhi," said former India middle-order batsman Yashpal Sharma, who has played 37 Tests and 42 ODIs.
Former fast bowler Chetan Sharma said as a successful and honest administrator, Mr. Rajat Sharma is best suited for the job.
"Rajat ji is contesting for the post of DDCA President. As far as his love for cricket and cricketers is concerned, there's no comparison of Rajat ji. He is a number one administrator. I will request all the members to vote for Rajat ji for DDCA's better future," said Chetan Sharma.