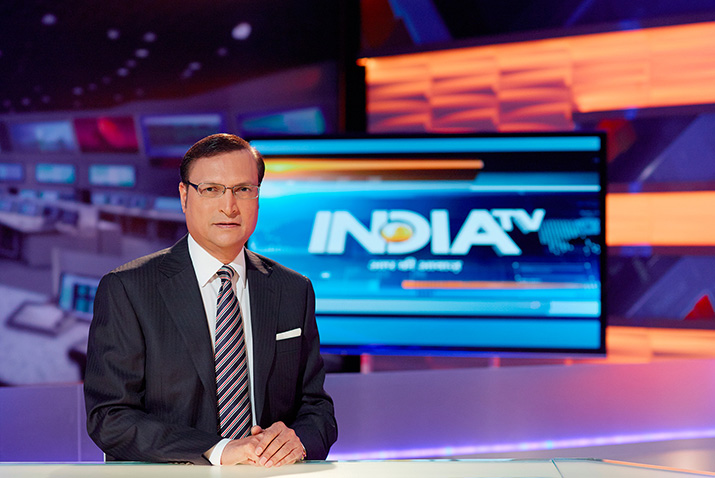 Well known TV personality Rajat Sharma is the best choice for the post of DDCA president, according to a recent opinion poll. A survey on the upcoming Delhi & District Cricket Association (DDCA) elections, revealed that a staggering 52.6 per cent of the randomly selected 487 DDCA members and 61.9 per cent of the selected 1,256 Delhiites believed that IndiaTV Chairman and Editor-in-Chief Rajat Sharma is the most popular face for the post of DDCA President. The DDCA election is scheduled to be held from June 27 to 30.
The exclusive survey was conducted by CVoter and it heavily projected Mr. Sharma as the "best choice for the post of DDCA President". (Also Read: Ravi Shastri supports Rajat Sharma ahead of DDCA elections, says 'he is the top man for the top post')
The CVoter Snap poll on DDCA election was conducted on June 24 and 25 across two sets of respondents. First set was the randomly selected sample of 487 DDCA members eligible to vote, followed by 1,256 randomly selected Delhi respondents across all demographics.
Majority of the DDCA members and the Delhi public felt that corruption was the main reason behind DDCA's lost glory. 
A massive 39.3 per cent of DDCA members and 38.3 per cent of Delhi public believed corruption was the root cause because of which DDCA has lost its pride - a claim constantly supported by Mr. Sharma.
Mr. Sharma, who has been a familiar face on TV for over two decades and was awarded the prestigious Padma Bhushan by the Government of India in 2015 in recognition of his service in the field of literature and education, has promised to transform the embattled state association into a professional, transparent and corruption-free body.
"Many people are asking me that why I decided to fight for the post of DDCA President. I tell them that my profession has given me a lot... honour, love and money. Now I don't want anything and rather I want to give it back to the society. And I want to start this with my passion, which is the game of cricket. I feel that DDCA has been dragged in a lot of controversies and that it needs to be cleaned, made transparent and efficient. This will be my contribution to the society," Mr. Sharma had said. 
"I don't have any vested interest of coming to DDCA. My one and only interest is to make the DDCA transparent, corruption-free in three years and to make such a system that after three years even if I am not there in the DDCA, whoever sits on this position will not be able to corrupt this system and use it for personal benefits," he added.
Meanwhile, majority of the DDCA members and the Delhi public have also lauded the newly-introduced E-voting process.
94.4 per cent of the DDCA members and 62.3 per cent of the Delhi public were of the opinion that E-voting will bring in transparency in the voting system. 
Administrator Justice Vikramajit Sen has earlier issued the directive that the polls will be held without the much-criticised proxy voting system. 
The proxy system of voting which has been considered by many as the root cause of corruption in DDCA has been done away with as Justice Sen released an 11-point model of code of conduct for election of members of the executive committee. (Also Read: Virender Sehwag, Gautam Gambhir, Aakash Chopra and Harbhajan Singh root for Rajat Sharma as DDCA President)
Mr. Sharma has also shared his vision to make DDCA a professional organisation with no scope for corruption.
"I have a vision to run DDCA as a professional organisation. It should have a professional CA, a CFO, and professional coaches. The decisions related to cricket should be made by cricketers and the professional decisions should be done by the President and the team. This is very necessary and there should be a process in place where nobody gets a chance to even think of corruption. Everything should be transparent and computerised," he said.
Mr. Sharma's team consists of Rakesh Bansal who will fight for the post of Vice President, Vinod Tihara (Secretary), Om Prakash Sharma (Treasurer) and Rajan Manchanda (Joint Secretary).
Mr. Sharma's candidature has been supported by present and former cricket greats such as Virender Sehwag, Gautam Gambhir, Aakash Chopra and Harbhajan Singh. Recently, he also received support of current Team India coach Ravi Shastri.