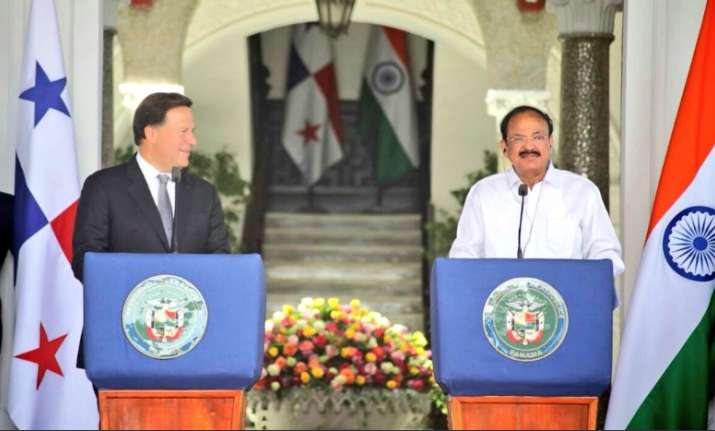 Strengthening ties and extending cooperation to a new level, India and Panama on Wednesday inked two Memorandum of Understandings (MoUs) on exemption of visas for holders of Diplomatic and Official passports and agriculture in the presence of Vice President Venkaiah Naidu and Panama President Juan Carlos Varela in the Panama city. In additional to the MoU's signed, India has also offered two lines of credit-10 million dollar line of credit for Bio-Technology and 15 million dollar for Innovation sector to Panama. Both the countries have also pledged to combat terrorism in all its forms and manifestations.
Earlier on Wednesday Vice President Venkaiah Naidu held four hour long high level delegation talks with the President and Vice President of Panama and discussed matters of crucial bilateral importance.
Later in a joint statement issued by the Vice President of India along with the President of Panama, the Vice President said that India and Panama always had cordial ties. "India and Panama always had cordial ties. They are the oldest in the Central American region. These ties are based on our common values and a shared commitment to democracy, pluralism, multi-culturalism and the rule of law.", said Venkaiah Naidu.
The Vice President also lauded Panama for including India for strengthening relations in its Falcon policies. In order to boost cooperation in key areas, both the countries have agreed to strengthen cooperation in economic cooperation, air services, culture and space", he added.
The Vice President also thanked Panama for extending its support to India for its candidature for the Indian Court of Justice (ICJ).
Vice President Naidu, who is on a five-day visit to Central America, reached Panama on Tuesday. He is on a three-nation visit to Guatemala, Panama and Peru which commenced from May 6.