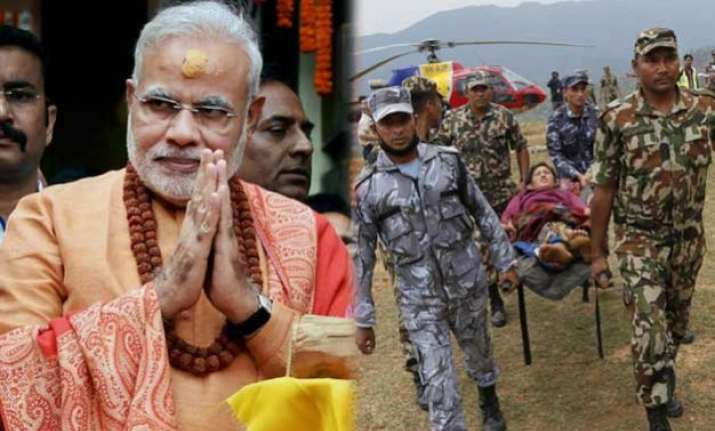 AAP leader Kumar Vishwas today said that the rumours of his illicit relationship with an Aam Aadmi Party volunteer were being spread by opposition parties and that  it was a ploy to defame him and his party.
Poet-turned-politician Vishwas said that the woman who filed a complaint against him with Delhi Commission for Women used to call him 'bhaiya' (brother) and showed a print-out of an e-mail to prove his claim.
Nepal government on Monday asked hundreds of foreign rescue workers to leave the quake-hit country as immediate relief has already been provided and the remaining tasks will be carried out by its army and police.
The major rescue work in Kathmandu and surrounding areas is over and the remaining operations can be handled by local workers, Information Minister Minendra Rijal said.
Twenty-one persons were charred to death and 13 others sustained burn injuries when the private bus they were travelling in fell into a nullah and caught fire in the district today.
The accident took place near Pandav fall, close to Panna Tiger Reserve, nearly 14 km from the district headquarters.  "We have pulled out 21 charred bodies from the bus which was on its way to Satna district from Chhatarpur district," Superintendent of Police I P Arjaria told PTI over phone from the accident spot.
In a video released by Al Qaeda in the Indian Subcontinent (AQIS), its chief Mulana Asim Umar has mentioned Prime Minister Narendra Modi.
In the video message posted by its media publicity wing As-Sahab productions on May 2, Umar said that there is a war going on against Muslims "through World Bank and IMF policies, drone attacks, Charlie Hebdo's writings, UN charter, official sermons by muftis and Narendra Modi's utterances."
The Parliament's Standing Committee was taken aback when the top officials of Indian military told that they could not buy critical weapons due to lack of funds.
Last week the report on military's concerns was submitted wherein the generals explained that defence forces won't be able to buy operationally critical equipments like artillery guns, carbines, missiles and anti-tank systems for the army and patrol vessels and surveillance helicopters for the coast guard due to the very low budget allocated to defence in 2015.