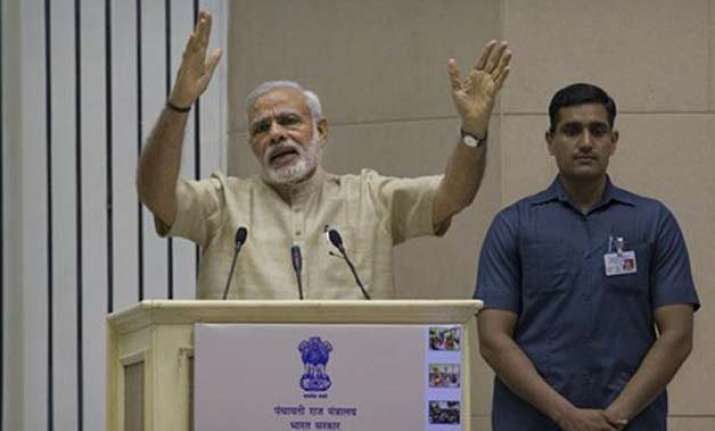 New Delhi: In a video released by Al Qaeda in the Indian Subcontinent (AQIS), its chief Mulana Asim Umar has mentioned Prime Minister Narendra Modi.
In the video message posted by its media publicity wing As-Sahab productions on May 2, Umar said that there is a war going on against Muslims "through World Bank and IMF policies, drone attacks, Charlie Hebdo's writings, UN charter, official sermons by muftis and Narendra Modi's utterances."
The video is titled 'From France to Bangladesh: The Dust Will Never Settle Down'.
Indian intelligence officials said the report is being analysed.
In a nine-minute video, Umar also claimed responsibility for the death of four Bangladeshi bloggers saying that they "have recently assassinated several blasphemers of the Prophet and insulters of Islamic law."
On February 27 this year, a Bangladesh-born American writer Avijit Roy was hacked to death by two machete-wielding assailants in Dhaka. A professed atheist, Roy posted articles profusely in his popular blog Mukto-Mona (Free Mind).
The group has claimed responsibility for death of four other Bangladeshi bloggers Oyasiqur Rahman Babu, Rajib Haider and AKM Shafiul Islam who taught at Rajshahi University.
"The killing mission started in Pakistan with the murder of the secular Dr Shakeel Auj and blogger Aneeqa Naz," Umar said.
Shakil Auj, a respected scholar of Islamic studies known for his moderate views, was shot dead in Pakistan's southern port city of Karachi in September last year.
The video claims "these assassinations are part of a series of operations initiated by the different branches of Al-Qaida on the directions of our respected leader Shaykh Ayman al-Zawahiri and it is equally part of our commitment to fulfill the oath of Sheikh Osama [bin Laden]."
The formation of AQIS was announced by Al Qaeda chief, Ayman al' Zawahiri last year where he mentioned Burma, Bangladesh and Assam as some of the key areas of operation of the new group headed by Asim Umar.
The move was widely seen as a bid to counter the growing influence of Islamic State (ISIS), which has established a so-called caliphate in parts of Iraq and Syria.
While some media reports said that Umar is possibly of north Indian origin and migrated to Pakistan in the nineties, Indian intelligence agencies say there is nothing to substantiate the claim.