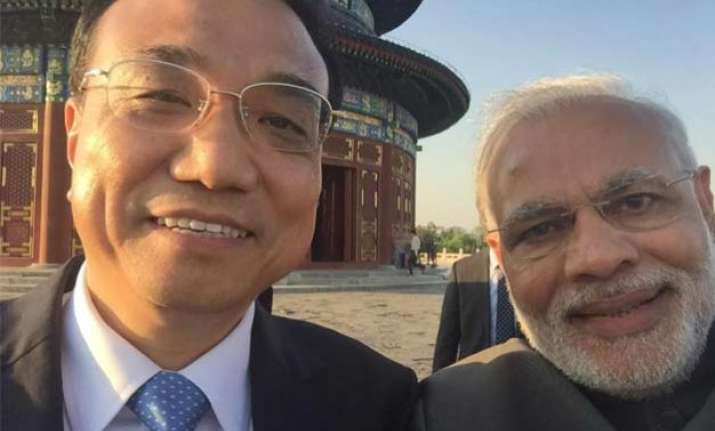 Vowing to address the boundary issue at the earliest, India and China today decided to seek a "political" solution to the vexed dispute amid Prime Minister Narendra Modi's assertion that its resolution should transform ties without causing "new disruptions".
Modi, who held talks with his counterpart Li Keqiang, pushed for clarifying the Line of Actual Control (LAC) without "prejudice to our position on the boundary question", saying "a shadow of uncertainty always hangs over the sensitive areas of the border region" as "neither side knows where the LAC is in these areas".
India and China today inked a record 24 bilateral agreements worth USD 10 billion, including one in railway, after talks between Prime Minister Narendra Modi and Chinese Premier Li Keqiang here.
Following the signing of agreement Prime Minister attended a Yoga-Taichi event at the Temple of Heaven in central Beijing accompanied by Chinese Premier Li Keqiang.
Fuel prices will get dearer from tonight.  Petrol prices have been hiked by Rs 3.13 per litre while diesel will get dearer by Rs 2.71 per litre. The hike will come in effect from midnight tonight.
Prices of petrol in Delhi will be Rs 66.29 a litre as against the current Rs 63.16; while diesel will cost Rs 52.28 per litre as against Rs 49.57.
Committing its support to India's fight against the black money menace, Switzerland today said its Parliament will soon consider changes in laws to look into the possibility of sharing information in cases being probed on the basis of stolen data of Swiss bank accounts.
To consider providing 'administrative assistance' to foreign countries, which would include India, in such cases, a proposal would be moved in the Swiss Parliament in the second half of this year, Switzerland's Economic Affairs Minister Johann N Schneider Ammann said here today.
Targetting Prime Minister Narendra Modi, Congress vice president Rahul Gandhi on Friday said "acche din" have come only for Modi and few businessmen close to him.
Addressing a public meeting at Wadial village near here, he said Modi has five to six businessmen friends and the entire country was being run for them.