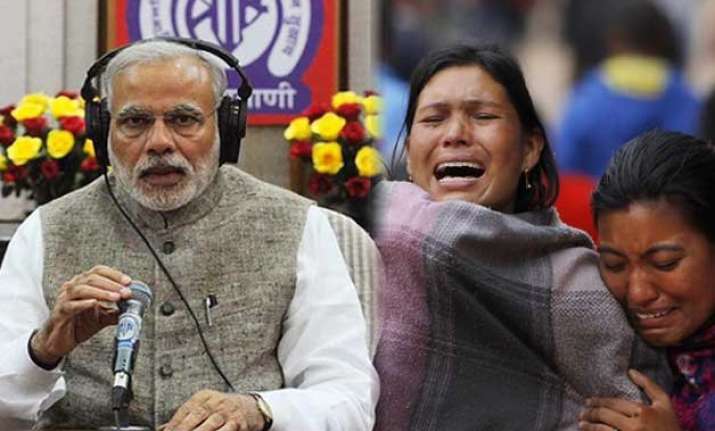 Fresh earthquake measuring 6.9 on the Richter scale shook Nepal today causing fresh panic as rescuers pulled out bodies from debris, a day after a 7.9 magnitude earthquake left over 2,300 dead and forced tens of thousands to spend the night on the streets.
At least 22 climbers have died near the base camp of Mt Everest where hundreds of climbers, including many foreigners, are stranded after an avalanche triggered by Nepal's massive earthquake slammed into a part of the camp on the world's highest peak.
Prime Minister Narendra Modi today said that 'India is with the sisters and brothers of Nepal in its time of crisis following the terrible earthquake'.
"My dear brothers and sisters of Nepal, India is with you in this hour of grief. .... For 125 crore Indians, Nepal is their own. India will do its best to wipe the tears of every Nepali, hold their hands and stand with them," Prime Minister Narendra Modi said in radio programme 'Mann ki Baat'.
The Narendra Modi government today announced Rs 6 lakh compensation for kin of those killed in the country due to the earthquake. The decision was taken at a meet chaired by Prime Minister Narendra Modi.
"The next of kin of those who lost their lives in various parts of the country due to the earthquake yesterday shall receive an enhanced compensation of Rs 4 lakh from the National Disaster Relief Fund," a PMO statement said.
A high-intensity earthquake today jolted Nepal and Northern India once again. The magnitude of quake was measured 6.9 on the Richter scale.
The aftershock was registered 17 kilometres south of Kodari - 114 kilometres north of Kathmandu - near the Tibet Autonomous Region of China.